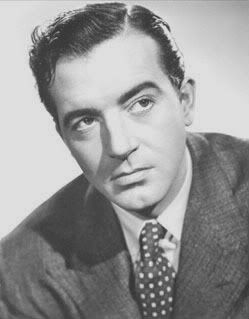 On Friday, January 14th, TCM will be broadcasting a clutch of some of actor
John Payne
's best darker movies. We have discussed the well-made
99 River Street
before (see
here
) and a bit about the stylish
Kansas City Confidential
, both of which were directed by Phil Karlson in all his gritty glory.
I don't remember and can't find references to
The Crooked Way
(1949-Robert Florey) in our previous discussions, but Florey's imaginative work is often of some interest and I ♥ those film noir amnesiacs!
To the Shores of Tripoli
(1942) is the oddball choice among these films until you remember that Payne plays a total crud-bud in this one...until...love (in the beautiful form of Maureen O'Hara) and patriotism (personified by Randolph *chorus please* Scott) transform his base nature.
Personally, I like to see
John Payne
when he's being bad! I think that this is in large part because no one in movies ever looked guiltier. Btw,
Evelyn Keyes, Coleen Gray
, and
Ellen Drew
are also nothing to sneeze at--with each of those actresses capable of enhancing a story with their beauty and intelligence.
Also not to be missed tonight:
Frank Faylen
's cockamamie marital advice in
99 River Street
Jack Elam, Neville Brand
and
Lee Van Cleef
as a trio of bad apples rotting in the semi-tropical sun in
Kansas City Confidential
Sonny Tufts
and
Percy Helton
as a tag team of baddies working hand in glove in
The Crooked Way
Slapsy Maxie Rosenbloom
and
Harry Morgan
playing characters with names like Okay Jones (Maxie) and Mouthy (Harry, who is listed as Henry Morgan in this movie, which was his screen debut) in
To the Shores of Tripoli
All times shown below are ET.
8:00 PM
99 River Street
(1953)
A taxi driver gets mixed up with jewel thieves. Cast: John Payne, Evelyn Keyes, Frank Faylen. Dir: Phil Karlson. BW-83 mins, TV-PG
9:30 PM
Kansas City Confidential
(1952)
To commit the perfect crime, a former detective keeps his colleagues' identities secret from each other. Cast: Preston Foster, John Payne, Coleen Gray. Dir: Phil Karlson. BW-100 mins, TV-PG
11:15 PM
The Crooked Way
(1949)
A war hero's amnesia keeps him from dealing with his criminal past. Cast: John Payne, Sonny Tufts, Ellen Drew. Dir: Robert Florey. BW-86 mins,
1:00 AM
To the Shores of Tripoli
(1942)
A brash young Marine has to redeem himself after trying to romance a female officer. Cast: John Payne, Maureen O'Hara, Randolph Scott. Dir: H. Bruce Humberstone. C-86 mins, , CC