The Brown Derby
3377 Wilshire Blvd.
This is the location of the original Brown Derby. Original owners included Gloria Swanson and her husband, Herbert K. Somborn. The restaurant opened the year his divorce from Swanson became final, 1926. There are lots of legends of how the restaurant got its shape, everything from the shape of Gov. Al Smith's hat to a friend who said "If you know anything about food, you can sell it out of hat."
There were five locations over the years including one in Beverly Hills, one in Los Feliz and the glamorous one in Hollywood.
It became a landmark along with its signature Cobb Salad.
In the late 1970s, the restaurant was sold to developers who promised to keep the hat. Well, they did. Today it is located in the back of a strip mall next to Japanese restaurant.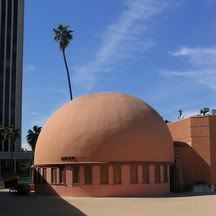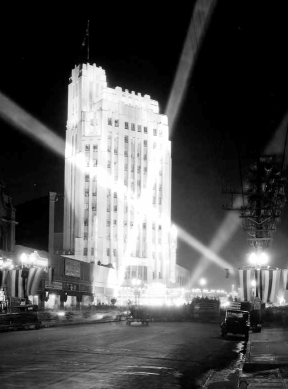 Wiltern Theater
3780 Wilshire Blvd.
In the 1970-1980s, preservation efforts to save classic Hollywood sites were battered left and right and many battles were lost before people realized that too many sites were being lost to developers.
One of the amazing stories of that era is the Wiltern Theater.
The theater was designed by G. Albert Landsburgh (Warner Hollywood theater) and famed City of Angels architect S. Stiles Clemens.
The Wiltern was one of the premiere Art Deco movie theaters on the West Coast. It debuted in 1931 and seated 2300. Alexander Hamilton was the premiere and the theater was supposed to be the flagship theater for the brothers Warner.
A special wooden "Bridge of Stars" was erected over Wilshire Blvd when the city decided not to shut down the street for the premiere. The theater, built in the dark days of the Depression, struggled from the beginning. The brothers Warner pulled out and the theater was shuttered. At the end of the Depression, the Warner brothers returned to the theater and operated it until the 1950s.
The 1960s and 1970s weren't kind to the Wiltern and in the late 1970s, developers were circling. At the almost 11th hour, a white knight came riding up. Developer Wayne Ratkovich worked with local architect, Brenda Levin, to restore the Wiltern.
Today, the Wiltern is still standing and is home to live performances. It's exterior and interior beauty is still intact.
http://en.wikipedia.org/wiki/Pellissier ... rn_Theatre