MissG
- He's so hard to spot! He's pretty much in the dark or at the outskirts the whole time.
Here he is lighting his pipe on the left.
"One stove, belonging to Mary Kane, Colorado... two dollars." Ladd is on the left foreground, by the potbellied stove, with the female reporter.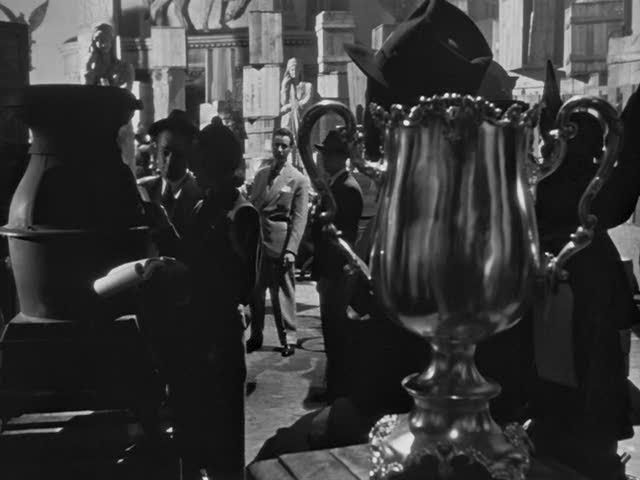 This last one is the only really clear shot of him. But he gets the penultimate line in the movie.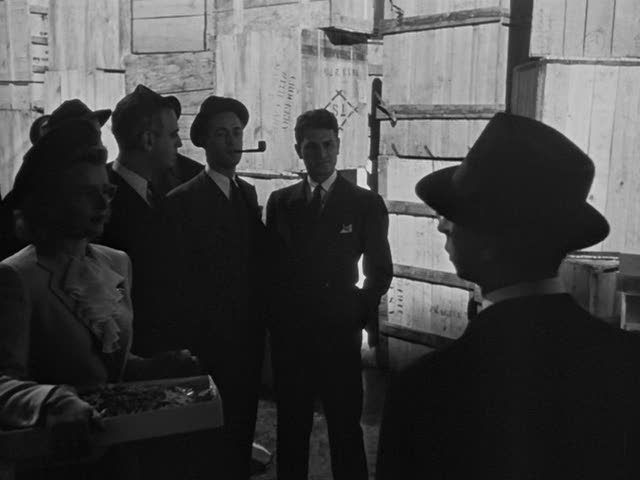 Arkadin
- I somehow have never paid any real attention to the most important scene in the whole movie - the 1929 sale of Charles' beloved Inquirer to Thatcher. I don't know how this scene slipped unobtrusively by for so many years, maybe Welles purposely made it grey and quiet amidst the uproar of the scenes of Kane's early life. Sometimes I get so bowled over by the staging that I forget to pay attention to what is happening to the characters... Charles' long walk to the back of the high ceiling-ed room takes my attention most times, rather than the words or feelings in that scene. You are very right that part of the key to Kane's life lies here, it looks like a puzzle piece deliberately hidden by Welles in plain sight. I even meant to mention my newfound love for this scene in my post, but forgot to in a haze of appreciation for the lighting in all those more exciting scenes. Kane has been much more sympathetic this go round for me because I took the time to pay attention, not just to that scene's last line.
Bernstein is really the one who knew Kane best, despite Jed Leland's claim to "best friend" status. Leland's outlook is clouded by hurt feelings and disappointment in Charlie - he was just too close. Bernstein pretty much has all the nuggets of wisdom in this movie - which makes sense - again, he is the most unobtrusive character in Kane's life, so we pay little attention to him.
ChiO
-
Thanks.
I thought Uncle John might be Woodrow Wilson, but I just couldn't remember who the other men were that Welles based Kane on...at first I was positive it was, because Hearst's wife's maiden name was
Willson
, but she was a cabaret dancer or something and it's spelled wrong. So thank you for the information. I still wish I knew who Welles was thinking of...