Thanks for filling in the background, J.B. It seems that
Cliff Edwards
was enormously lucky to have found this role. He's such an odd, interesting figure in early talkies, recordings and shorts. Of course, with that catch and chuckle in his voice, I can see how the tone of the cricket's role in the story must have changed because of that poignant cheerfulness that the performer captured so well. The only physical similarity I could see in Edwards and Jiminy is a shared large forehead, so it does seem that his cartoon self was not drawn from life.
(BTW, When we had Steve Taravella here for a visit he mentioned that the subject of his biography,
Mary Wickes: I Know I've Seen That Face Before
, was the animation model for 1961's
101 Dalmatians
' Cruella de Vil for Disney productions decades later, so I guess it was a longtime practice for the animators to use themselves and professionals as a template for their creations!)
Two other voice actors behind the animation in
Pinocchio
are among my favorite character actors. Could you please relate how the talented
Frankie Darro
, who is perhaps best remembered for his dynamic performances in Depression era films,
Wild Boys of the Road
and
The Mayor of Hell
came to be cast as Lampwick the boy who was transformed into a donkey? Was
Mickey Rooney
originally considered for the role?
The first time I saw this movie, the most vivid character in
Pinocchio
for me may be the fox,
J. Worthington Foulfellow
, voiced by comic veteran,
J. Walter Catlett
, a fast-talking actor fondly remembered for his roles in
A Tale of Two Cities
(1935),
Bringing Up Baby
(1940),
Friendly Persuasion
(1956), and numerous other films. Seeing Pinocchio (1940) for the first time as an adult I have always wondered if the actor and the filmmakers may have had the late career, self-parodying John Barrymore in mind while crafting this character's oily, flowery speeches and outrageous behavior (or perhaps one of Barrymore's many imitators, such as John Emery?)? I recently read a translation of the Collodi story for the first time--found
online here
--and discovered that the Fox character was devious and manipulative, but Catlett's personification of him seems to be so sly and full of mischief, I can't help wondering how much he (and ham actors everywhere) influenced the creation of the animated version.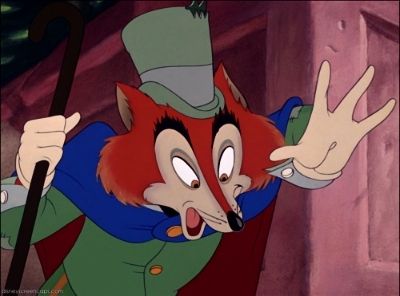 I am really looking forward to reading your book since you go into such interesting depth about the (often) unsung people who made Disney films from this period into classics. I really appreciate learning about the roots of such cultural touchstones--even though I must admit most of them were unknown to me until I went to college--I blame Mom and Dad and a serious lack of distribution of the Disney library before VCRs changed the shelf life of older films forever!!