It's Esther Williams' Summer Under The Stars Celebration today!
Do you know where your bathing suit is?
Pool your resources and find some time to enjoy a cool splash during the long, hot summer!
Esther Williams and Betty Garrett were both revered, special guests at the TCM Film Festtival in 2010 for a poolside screening of "Neptune's Daughter" at the Hollywood Roosevelt Hotel, and Ben Mankiewcz had the privilege of interviewing them before the film began.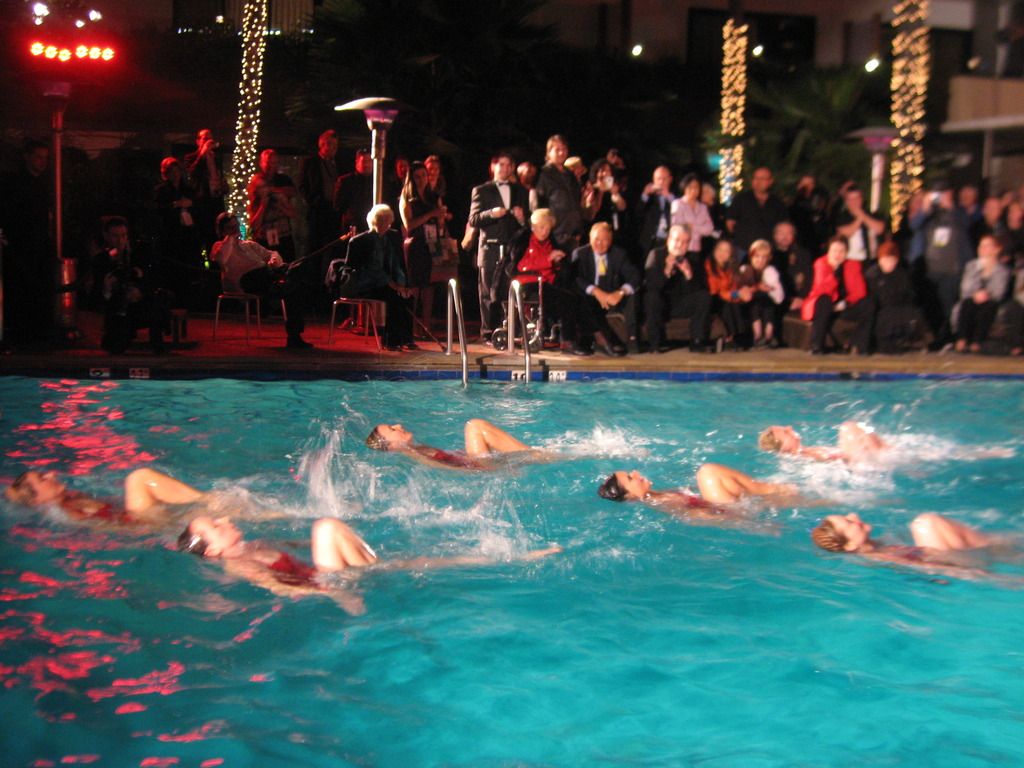 Also, a special treat was included! All passholders attending the screening were lucky enough to enjoy a synchronised swimming exhibition by the lovely Aqualillies....
Betty Garrett and Esther Williams poolside at the Hollywood Roosevelt with the Aqualillies in 2010...

Media mogul Ted Turner receives his star on the Hollywood Walk of Fame accompanied by Ann Rutherford, Cora Sue Collins, Betty Garrett, Margaret O'Brien, and Esther Williams in April of 2004...
"Neptune's Daughter" will be screened late tonight or early in the a.m. depending on your time zone. Check it out here: [url="http://www.tcm.com/schedule/"]http://www.tcm.com/schedule/[/url]
FROM THE SUE SUE ARCHIVES ABOUT THE HISTORIC SCREENING OF "NEPTUNE'S DAUGHTER" IN 2010:
"The evening was cool, and even though I was wearing my coat, I was chilly. As I was making my way through the large crowd, I found my vintage-clad friends, Countess De Lave and her sister, Miss Lilacs. We all sat at a table and ordered something tasty and warm. I had coffee with B&B. All around the pool area by the bar, several toasty fires were blaring in metal "kivas" to keep everyone warm.
The lights made by the fires and the illumination on the palm trees reflected in the pool water made lovely shadows that sort of twinkled everywhere, depending upon where someone was seated. Up above the pool area, the large column of rooms of Hollywood Roosevelt Hotel was visible, bathed in a sort of amber light.
The screen was at one end of the pool, by the shallow end, and the synchronized swimmers, the Aqualillies, had just begun to arrive.
Genevieve McGillicuddy, the director of the festival, steps on the stage and welcomes everyone, followed by applause, and then she introduces Ben Mankiewicz, and he then greets Betty Garrett and Esther Williams on stage followed by more applause.
And when Ben sees that Esther Williams is in a wheelchair, he quietly moves an extra chair out of the way. A very considerate act of kindness to accommodate the ladies. Esther and Betty are smiling and acting very happy to be at the Festival. Esther claims that "Everything sounds better under water," and Betty, who seems to be having a cold, has a little hoarseness in her speech, and states that she can't hear everything, but if if someone says something bad, she'll find out about it and "whack you later." Cute. Spunky. I like it.
Even though Esther Williams was in a wheelchair, she seemed in good health and quite perky. She was wearing a red sequined full-length sheath and sparkled when she spoke. Still a feisty gal, Esther still has her bathing suit business because the Aqualillies were sporting her little red swimsuits and she made note of it. The lovely synchornized swimmers had a great show, doing some of the same Esther Aquatics we've known and loved, and they received a large round of applause.
Betty Garrett was so cute, too, and seemed quite energetic. Esther left shortly after the film began, and so did Betty.
But after the movie started, and the double duets of the Academy-Award winning song, "Baby, It's Cold Outside," with Esther and Ricardo Montalban, and Betty and Red Skelton came on, Betty stepped back out on her patio from her private cabana and was watching this sequence wistfully. As many of the viewers around the area saw her standing there, they turned and gave her a round of applause, and as she teared up, she smiled sweetly and disappeared again into her suite.
Lots of folks were wearing their coats because, baby, it really was cold outside! But the Hollywood Roosevelt had several huge, round metal fireplaces warming everyone up. I was still in my full-length Chinese dress with the mandarin collar and stretched out on one of the deck chairs and finished sipping my coffee and brandy while I enjoyed Ricardo, Betty, Esther, and Red up on the silver screen at the end of the pool. I was able to be with my new friends, Kyle, Countess De Lave, Miss Lilacs and lzcutter for this wonderful close to a great first day at the festival."