This is probably the smallest, most insignificant thing ever posted on this thread, but I had no where else to talk about it!
I've admired Tony Duquette's room designs for years. He started out as a stage designer, went to Hollywood and took off from there, designing for the elite of society and the entertainment world. His insanely lush, European-meets-Oriental furnishings just kill me. It shouldn't work, but somehow it does. I once saw his garden on a show on HGTV and immediately fell in love with him. He practically invented bling, and the whole "outdoor room" design that is prevalent today, with beds and couches and massive stacks of pillows for the patio. He liked hiding a section of his garden amidst bamboo and shrubbery, so he'd have a place to relax by himself or with intimate friends. Most of all, I love his inspired use of color.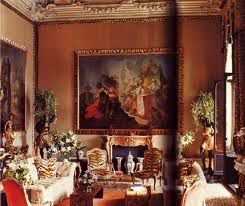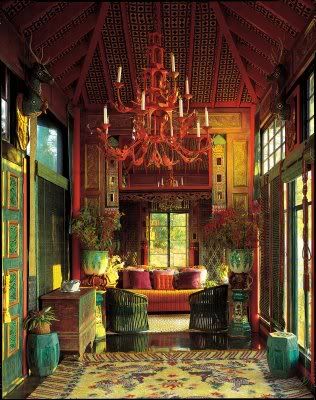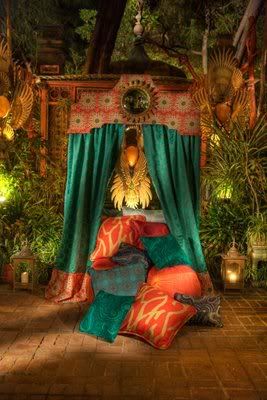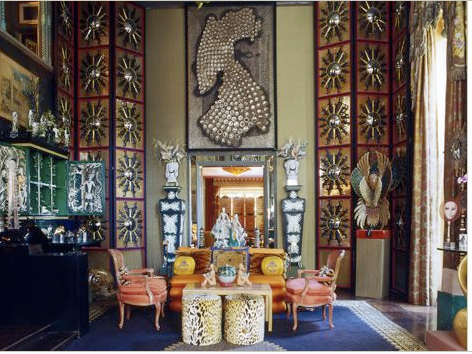 Well, apparently, he designed jewelry too, which is not surprising but what is is that I just purchased a certified original Tony Duquette necklace! It's probably the smallest most insignificant necklace that crazy man ever designed!
I couldn't believe it this morning when I got on the computer there was a listing for ORIGINAL Tony Duquette jewelry on
One King's Lane
, a site that sells all sorts of things for up to half off the list price. I rarely buy anything, but have gotten some good deals on the less expensive stuff there.
Anyway, I went excitedly to look, figuring that the Duquette section would be sold out.... but it wasn't. Then I thought it would all be too expensive, but lo! I found a necklace for 30 bucks! Amazing! of course you wouldn't actually recognize this little trinket as Duquette's, it's not big or voluptuous or fascinating, but I"LL know it's an original piece of TONY DUQUETTE jewelry. And the best part is, I KNOW it's really from his collection, because this site specializes in authentic designer items, and is very reputable. Here's my necklace: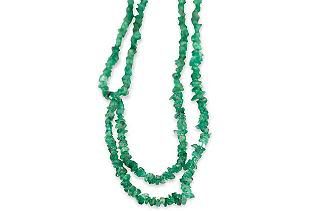 It's a single strand of marcasite and mother of pearl beads, that is long enough to doubled over. I'm so excited!!!!