I wanted to start a thread about one of my favourite foreign movie actors, in fact one of my favourite actors.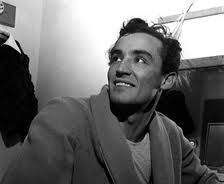 I've toyed with the idea for a time but wondered if he was only a favourite of mine. Two things changed my mind, I managed to post some of my own pictures on the site last night without getting too confused, so I guessed if I could do that I could illustrate this thread with some images from his movies.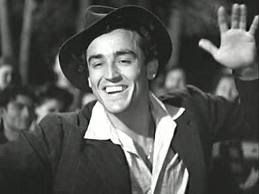 Brought to the attention of the wider world in Bitter Rice
Secondly, at our Jubilee celebration on Monday I got talking to an Italian and started talking to him about Italian cinema, Britain does not have TV channels that show Italian movies, it's quite a niche thing to be into, I think in America there is a demand for these films but here it's something that has to be searched out. So the fact that he had found someone who could talk about a big range of Italian cinema impressed him, we talked of Fellini, De Sica, Visconti, we talked of the actors Mastroianni, Sophia Loren, Claudia Cardinale, Guilietta Masina, Gina Lollibrigida but the actor I knew that impressed him the most was Vittorio Gassman because I not only knew of him but rated him as high as Mastroianni and appreciated him both as a comedian and as a straight actor and also that I knew he was a stage actor who was well known for Shakespeare. It seems Mr Gassman is someone the Italians are very proud about, they are used to Marcello Mastroianni being their well known actor but Vittorio Gassman is more of a home grown secret. He did come to America for a time as the husband of Shelley Winters and made the very good
Glass Wall
. He gave a strong performance and didn't suffer from too atrong an accent but for some reason his career or his instinct was not for American film.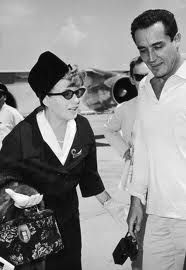 For a time the husband of Shelley Winters
It seems with in my conversation I had struck on one of the most reverred of all Italian actors and with it came so many film recommendations, alas many of them unavailable but I got the distinct impression if Vittorio Gassman is in it, it's worth seeing. Many of the most international films I've seen, I must look out for like his version of
A
Scent of a Woman
, it's meant to be head and shoulders above the remake.
Watch Vittorio in only a handful of his movies and you will see how wide a range he can play,
Bitter Rice
seen only recently by me and one of his first movies, he doesn't play the good guy but he brings in a subtle and complex performance as the pimp/boyfriend of Silvano Magnano, seen above and also below.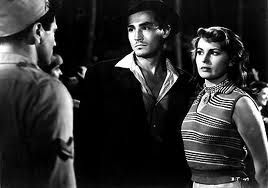 Big Deal on Madonna Street
he wasn't wanted for the role of the boxer which is essentially a comedy role, he wasn't known for his comedy skills, so he was made to alter his appearance and got to appear in one of the best caper/heist movies in history, a bunch of more inept burglars it would be impossible to find, Marcello Mastroianni is also in the cast along with Claudia Cardinale who is kept locked up at home by her brother. Just watch them break down that wall