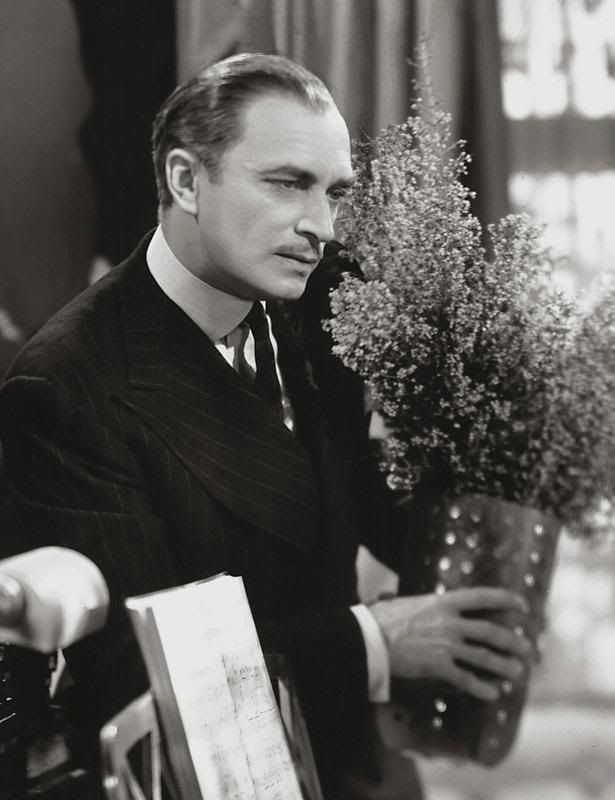 This Saturday, January 22nd marks the date in 1893 that the superb actor,
Conrad Veidt
was born. In honor of that anniversary, I thought perhaps we might begin a thread devoted to this protean artist.
On Jan. 31st, TCM at 5:15AM ET will be broadcasting
The Spy in Black
(1939), an early effort by Powell and Pressburger made just before the outbreak of WWII. The film, which is set in a remote coastal village during the First World War, remarkably shows sympathy and understanding for a German character, played to the hilt by Veidt. His role as a submarine captain turned spy hiding in the house of a local school teacher (Valerie Hobson, who is excellent) was one of the first films I saw that made me realize what a remarkable actor Conrad Veidt really was. Just watching him in one early scene when, after months of privation--he sees and smells butter for the first time again, was a lesson in acting. I hope that if others like this film or any other Veidt movies, they will comment here too.
I know that one member of the SSO, our own Paula, is a member of
The Conrad Veidt Society
and has contributed to their website, which can be seen at the link below, (though parts of it are apparently undergoing long term reconstruction, there is a wealth of detailed info there)
http://thethunderchild.com/ActorSites/ConradVeidt/
Most often remembered for his stranger roles such as the characters he played in silent classics such as
The Cabinet of Dr. Caligari, The Hands of Orlac, Waxworks
, and
The Man Who Laughs
, Veidt had a unique ability to portray the most menacing characters with memorable moments of sympathy, compelling a viewer to feel an unusual amount of empathy for what is grotesque or evil in human nature.
In the sound era, more of his off-screen personality crept into his portrayals. His villains as well as heroes were blessed with his gentle voice, sardonic demeanor and surprising humor that came into play along with his superb ability to control his own gestures and presence on screen in such British and American films as
Casablanca, A Woman's Face, Contraband, I Was a Spy, All Through the Night
and the wondrous
The Thief of Bagdad
. While his movies do show up on TCM from time to time, the fact that he is remembered primarily as that menacing Nazi Maj. Strasser in Casablanca is ironic. In real life, Veidt was a vehement anti-Nazi, who was married to a woman who was half-Jewish, which eventually led him to move to Britain and later the US. Having been allowed to become a British citizen, Veidt made his personal fortune available to the British government. He also sheltered children who were evacuated from the London Blitz in his Hampstead home and purchased thousands of pounds worth of Christmas presents for the children who sought shelter in the London Underground in this same period.
Sadly, Veidt died at only 50, dropping dead on a golf course in 1943, a loss to film, and from all reports to humanity.