HERE THEY COME!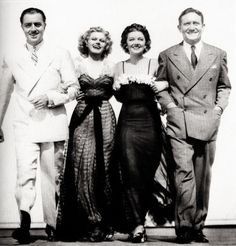 TCM FAN FAVORITES ARE TODAY!
Don't miss @TCM_Party regulars Aurora Bugallo, Paula Guthat, Joel Wiliams, and Miguel Rodriguez today! They magically visit with Ben Mankiewicz as they share some of their favorite films...
12:30 p.m. Meet Me in St. Louis – Aurora
2:30 p.m. The Lemon Drop Kid – Me
4:15 p.m. The Thing From Another World – Miguel
6:00 p.m. Butch Cassidy and the Sundance Kid – Joel
Paula writes all about it here:
http://paulascinemaclub.com/2014/11/22/ ... rday-1129/
Check the official TCM Schedule here for your area...
http://www.tcm.com/schedule/