The rarely seen and visually stunning
Sons and Lovers
(1960), directed by Jack Cardiff and based on D. H. Lawrence's autobiographical novel is being broadcast a 2pm ET on the Fox Movie Channel on Tuesday, June 14th. It is also available on Netflix as a streaming download.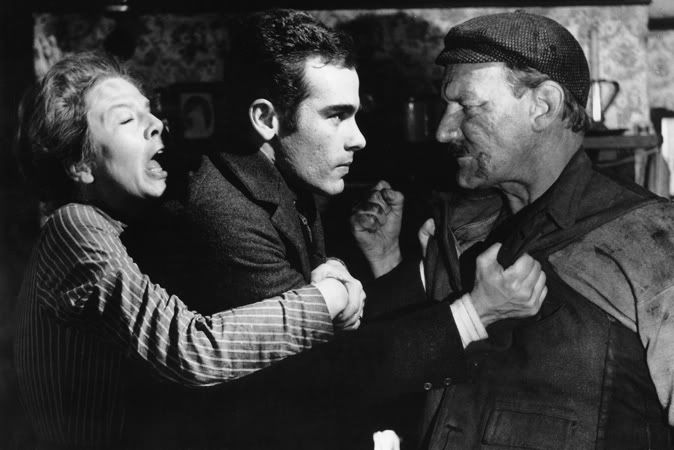 The film stars an adult
Dean Stockwell
as a young man in the industrial Midlands of England. Equally prominent are the brusquely genteel
Wendy Hiller
and coal miner
Trevor Howard
in two of their finest mature roles as his parents, whose marital life is marked by an uneasy but palpable and sensual depth of feeling. The couple's conflicts over the future of their son in Nottingham as he seeks a way out of his class via an artistic career form the centerpiece of the film.
Howard
's rigid character of the father, imbued with a sense of class pride and earthy humor, is no match for the focused matriarch of
Hiller
, who openly favors her sensitive offspring's artistic yearnings, ignoring her husband's resentment toward the love she gives her second of three sons rather than her husband. The tug of war between these two is among the best portraits of a vital, if troubled marriage I've ever seen on film (
The Sundowners
and
The Dark at the Top of the Stairs
--all released in 1960--are among the best in my book as well. Was there something in the air in that year?).
Faced with censorship issues that prevented Cardiff from transferring much of the roiling sexual frankness in Lawrence's novel to the screen, the relationships of Stockwell's character with a "good girl" (
Heather Sears
), an experienced woman who is a suffragette and a married woman ( played by
Mary Ure
, who was nominated for an Oscar), and his domineering mother have considerable tension, though they take a back seat to the older adults' drama.
In the difficult role of a Mama's Boy as the central character, American
Dean Stockwell
, cast in part to ensure youthful audience appeal, holds his own in this heady company in the same year that he brilliantly played a child murderer in
Compulsion
(1960). His character spends much of the film half-understanding the events that he lives through, and is often unsympathetic, treating one woman callously and another brusquely, while expressing contempt for his mother's lavish care. Having read Lawrence's book some time ago, I recall that his central character was also constantly impatient with his situation, haunted by his inability to live without the maternal love he craved yet reviled, the spiritual love of his young sweetheart and the carnal love he experienced with a married woman. None of these "complete him" in Paul's (or Lawrence's viewpoint), which is conveyed by Stockwell's expression of dissatisfaction with life as he looks endlessly for one human relationship that will meet all his needs.
Given the legendary
Jack Cardiff
's background behind the lens as one of the most creative cinematographers in film history, enhancing the visual impact of
Black Narcissus and Pandora and the Flying Dutchman
, among other films, perhaps it is not surprising that a film photographed under his direction won an Academy Award for cinematographer Freddie Francis' darkly beautiful expressionistic black and white visuals. Thanks to these gifted men, a literate script by Gavin Lambert & W.E.B. Clarke and their cast, simple scenes become fraught with meaning and emotion. A potentially prosaic scene when Trevor Howard takes a bath becomes a ritualized celebration of life and a ride on a swing with a girl conveys youthful intoxication with being alive, while the dark landscape take on a fecundity that is both ominous and alluring (reminding me of Henry Moore's sculptured figures).
Winning a Golden Globe as Best Picture, and nominated for a Palme d'Or at Cannes, and seven Academy Awards including Best Picture, (with one win by Freddie Francis for his expressionistic black and white cinematography), the movie ultimately received a nod for
Trevor Howard
's marvelous performance as Walter Morel from the National Board of Review, as did Cardiff for his direction, which was also recognized by the New York Film Critics Circle Awards. The Writers Guild of America also gave the nod to this movie's sceenwriters, Gavin Lambert and T.E.B. Clarke for Best Written American Drama for
Sons and Lovers
. Unfortunately, Howard was nominated (!!) once for an Oscar as a lead actor rather than as a supporting player for an Oscar. If he had received a nomination as Best Supporting Actor, he might have won that year (Peter Ustinov won for
Spartacus
). As it was, Howard was competing in the leading category against Burt Lancaster (Elmer Gantry, for which he won), Jack Lemmon (The Apartment), Laurence Olivier (The Entertainer), and Spencer Tracy (Inherit the Wind)--and he didn't have a chance!
Bizarrely, given the prestige that this movie earned, it is not available on DVD commercially nor is it broadcast very often. If only Fox would have the good sense to ask
Dean Stockwell
(the only cast member still living) to do a commentary and attach the documentary,
Cameraman: The Life and Work of Jack Cardiff
to the disc as an extra, they might even sell a few DVDs.
You can see more about
Sons and Lovers
(1960)
here
.Here's the trailer:
[youtube]
[/youtube]