Moderators: Sue Sue Applegate, movieman1957, moira finnie, Lzcutter
Posts: 10098
Joined: February 6th, 2011, 4:01 pm
EDITH HEAD VIDEO TRIBUTE
Fascinating Lady ... I enjoyed this very much!
Posts: 5108
Joined: April 17th, 2007, 10:01 am
Contact:
masha, the "grand theft doggie-auto" video was hilarious!!
"There's only one thing that can kill the movies, and that's education."
-- Will Rogers

Administrator
Posts: 8176
Joined: April 9th, 2007, 6:34 pm
Location: Earth
Contact:
Found this little known movie,
Quiet Please, Murder
(1942) with George Sanders and Gail Patrick as rare book collectors and con artists with a rather twisted relationship. Their tie darkens considerably as the film goes on and the intellectual and private meanings of actions take on another dimension. Toss in some Nazis fifth columnists, a sequence in a library (complete with the usual clichés), and you have a very engaging B movie that highlights the talent of Patrick, and the gloved, suave menace of Sanders. Unfortunately, Richard Denning is also around in this movie, but don't let him stop your enjoyment of the literary allusions and the dramatic tension between the leads. Interestingly, this print is better than the one run on Fox Movie Channel occasionally.
Posts: 10098
Joined: February 6th, 2011, 4:01 pm
I enjoyed this film Moira and George Sanders was excellent ... thanks for sharing this with us.
Posts: 1703
Joined: March 1st, 2009, 7:12 pm
Location: NYC
feaito
The songs from two of Paul Mauriat's albums released in 1966 and 1967, are part of the soundtrack of my life, since my mother owned them and I played them frequently. I was lucky enough to find recently two Peruvian CD releases which include the complete two albums. L'amour est Bleu is perhaps Mauriat's most famous song ever.
Last edited by
feaito
on November 23rd, 2014, 11:03 pm, edited 1 time in total.
Posts: 1703
Joined: March 1st, 2009, 7:12 pm
Location: NYC
I first became familiar with Paul Mauriat through his work with Charles Aznavour, as arranger and music director. In later years I realized that "Love is Blue" was his work too.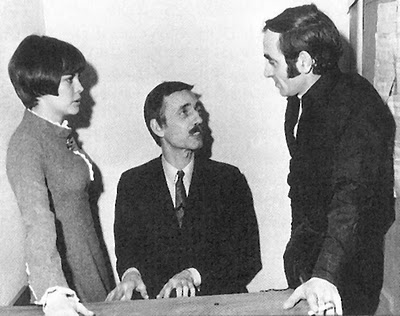 feaito
He also wrote the original source of "I Will Follow Him" which was a hit for Little Peggy March and later orchestrated by Percy Faith, as "Chariot" with Franck Pourcel. both using pseudonyms. Chariot was firstly sung by Petula Clark.
Posts: 1703
Joined: March 1st, 2009, 7:12 pm
Location: NYC
Posts: 1703
Joined: March 1st, 2009, 7:12 pm
Location: NYC
AM's Emmy-winning performance.
"Life is not the way it's supposed to be.. It's the way it is..
The way we cope with it, is what makes the difference." ~ Virginia Satir
""Most people pursue pleasure with such breathless haste that they hurry past it." ~ Soren Kierkegaard
.
Thanks for that medley of Christmas shows. I haven't seen all of them yet, but Suzy Snowflake took me back to watching out the window during a snowfall and trying to see Suzy. and that 1950's bit looked like someone raided my mom's photo album.
.

Anne
***********************************************************************
* * * * * * * * What is past is prologue. * * * * * * * *
]***********************************************************************