I just re-watched
Drums Along the Mohawk
, and although I can understand why you find Blue Back cringe-worthy, I did not think so this time through. What I especially loved about the movie was the ending, so patriotic, and yet inclusive - the flag is raised over the newly independent land, and we are shown not Lana Gil, and the rest of the townspeople first, but Daisy the black maid, and Blue Back, both looking up to the flag with respect and dignity, showing an inclusive America. Maybe I'm a sucker for that, but it was done very well.
Some other things i noticed:
Obviously, the color cinematography. At the end, I noted for the first time that Lana is wearing red, white and blue as she and Gil turn to their new home. There are some beautifully shot opening scenes which I am quite sure must be based on specific paintings of colonial weddings. Granted this engraving is a bit earlier, but I can still see the influence of art similar in character to this one in the movie.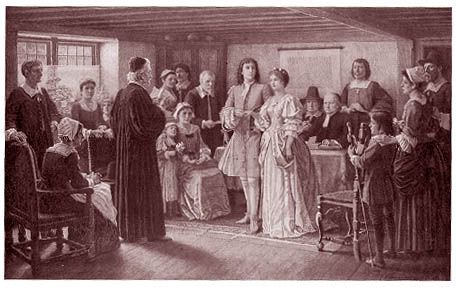 Most of the film is shot with emphasis on reds, whites, blues and browns, which seems a familiar color palette in colonial paintings. I also noticed that the lighting in the film references those old paintings we have somewhere in our memories, whether colonial portraits with sun shining through clouds behind the sitting subject, or those patriotic scenes of our forefathers in various situations, where the light is filtering in from high above, rather beatifically. I loved the way the light clouds played palely against the blue of the sky in this movie, making everything seem fresh and new. Or the way smoke drifted over the landscape as guns flared or crops burned. I even found a painting of soldiers preparing an encampment at night that was far too large to reproduce here, which reminded me of some of the night scenes in the film.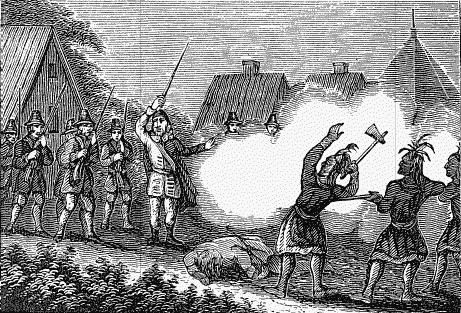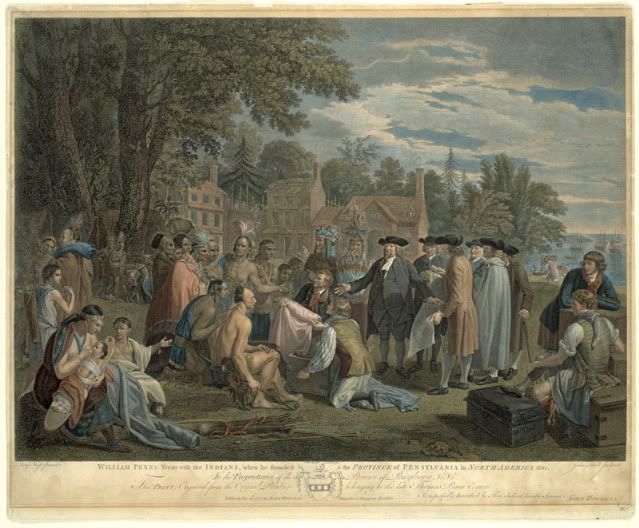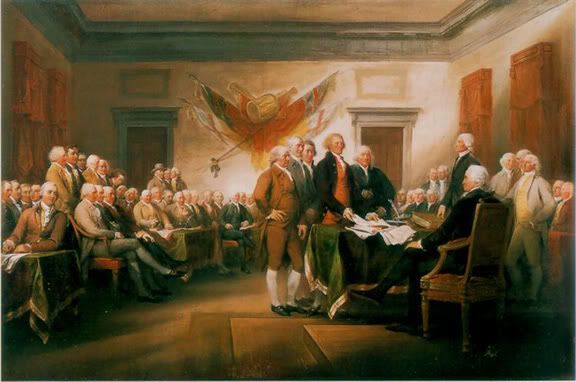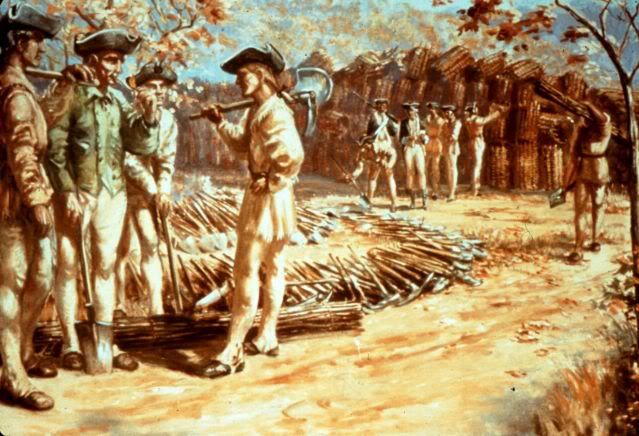 Many films were made throughout the classic era that were painterly, or that tried to copy a look for a specific time period, even some of the short subjects we see on TCM, but I think this is one of the most successful, because of the consistency of it's vision. The movie carries those aspects of realism (or should we use another word? since this is the world inside the painting of our imaginations?) through the entire picture - it's as if that colonial painting sprung vividly and vehemently to life. There are flourishes, little realistic touches in the film that I loved - the organ in the church gets an extra moment as we note that one person plays, while the other runs the bellows that sits on top of the organ rather than underneath with pedals. These little flourishes made me wonder if Ford said, "go and get me an organ from 1750", or if they found an organ somewhere and gave it a moment in the script? I guess I'll never know the answer. Anyway, normal things that we can identify with today are made amusing by the rusticity of their olden day counterparts. Just watching Gil light a candle in an odd shaped base with a flame protector on it, then kiss Lana while still holding the candle away from her dress gave me a little thrill, as if I peeped through time to discover something new in history that I hadn't known before. Ford's best movies are dense with folklore this way, and are endlessly entertaining because of it.
Lana's crying fit didn't bother me as much this time, I think Goddess is right about it being her journey into a more womanly form, able to take things in her stride. I also agree that it's horrifying to watch as all their possessions, like Lana's grandmother's teapot, but also the wheat they grew with their own hands, the cabin that Gil built, burn up uselessly. Ford really is able to put us in Lana and Gil's shoes. And I thought Claudette Colbert gave a really fantastic performance. She was just great, growing from shallow beauty to wiser nurturer. I totally felt that she and Fonda were youthful lovers here, they cracked me up in the first scene at the inn, sitting together, talking quietly, and the innkeeper comes up and laughs at them being newly married... they were spot on at showing how two people can be in love, but not know each other very well.
I think Fonda comes into his own in this film and Young Mr. Lincoln. You can see it coming a long way off, in The Trail of the Lonesome Pine and You Only Live Once, then again in Jesse James, but he's unformed, it's off again on again in this films. In Jezebel, he's fully fledged, but lacking something.... I would say that Ford shaped Fonda as an iconic image just as he shaped John Wayne, and later on Ben Johnson. I don't think many people credit Ford with this, it's always Pappy and Wayne as the mentor and student. But Fonda's performance here in DAtM, while not quite the focus of the film, is iconic and distinctly
American
, which is where Fonda ended up, isn't it? Ford brought out something in Fonda that I don't think we see before their collaboration.
There are also touches that reminded me very much of
Gone With the Wind
, especially for instance in the amputation scene. The way the light flickers over the room, the shadows on the walls, the oblique angles showing only those watching, all of this reminded me strikingly of scenes in GWTW. Even the plot is structured similarly around a girl's reaching maturity ( no matter how long it takes). I think if any movie were to be compared favorably with GWTW, and so many are compared and fall short,
Drums Along the Mohawk
just might be that one. And why not? The country was facing war in that great movie year of 1939, and Americans had, as the last line of DAtM states so well, "a heap of work to do from now on."