charliechaplinfan wrote:I loved the picture of Laurel and Hardy too. I'm very proud of Stan Laurel's Lancashire origins, his birth place isn't too far from here, I intend to take the kids when they are old enough to enjoy it, I'm sure the tour guides will be given a run for their money that day. I can't stop asking questions in places like that. Stan is now commemorated with a statue in his birth town of Ulverston, I wish they'd put Oliver Hardy with him, it doesn't seem right to have one without the other.

According to

this article

, they did put Stan and Ollie together in Ulverston.

charliechaplinfan wrote:FDR jnr looks pretty handsome in that picture, did he ever try out in movies.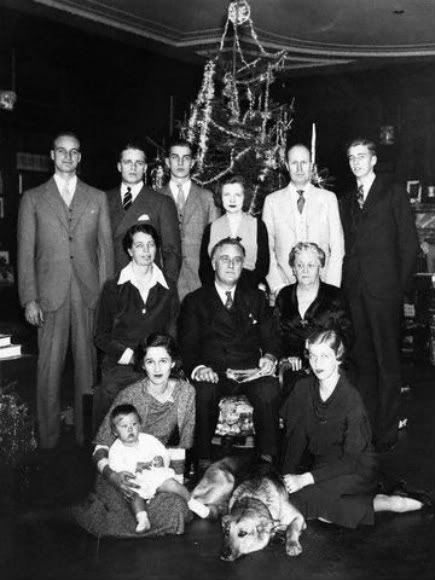 I think that the Roosevelt children were quite good looking when young. In the 1932 picture above just before FDR became president, you can see: (left to right, back row), James Elliot, Franklin Jr., Mrs. Elliot Roosevelt, Curtis Dall, son-in-law, and John Roosevelt. Centre; Mrs.Franklin D. Roosevelt, the Governor and his mother Mrs. James Roosevelt.
As far as I know, Jr. did not appear in any movies. His older brother
James Roosevelt
was involved in producing some films in Hollywood for a time in the early '40s.
Elliot Roosevelt
, born between James and FDR, Jr., was the only one who married an actress--
Fay Emerson
, who found her connection to the clan a bit onerous while she pursued her career (though it probably won her some jobs). Fay later said that she liked Eleanor, though she could be intimidating.
I met FDR, Jr. decades later due to family political activities. He went through five wives, ran for office a few times, and served in Congress for a time. I wonder if he ever had a moment's peace in his life. Naming a youngster after the father may be a nice gesture, but try to live down being FDR's son when you have his name. I suspect that living in their father's long shadow must have been a privilege with considerable drawbacks for each of them.