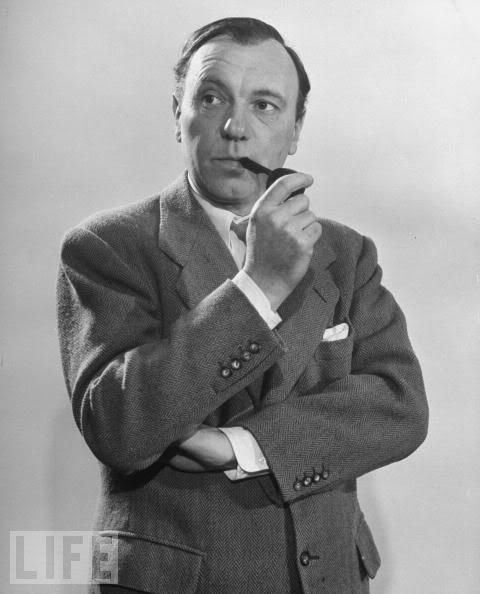 When considering the "big three" British stage actors - Laurence Olivier, John Gielgud and Ralph Richardson - I have always found Ralph Richardson to be the most interesting on screen. Perhaps because he tended toward character roles anyway, I think he had arguably the most successful career in movies. Maybe it was that he was not competing with anyone - he tends to get quieter, subtler in his big moments. He turns inward, whereas Olivier seems to be trying to command the screen as he did the stage, and Gielgud gets sentimental and choky (don't get me wrong, I
like
sentimental and choky).
Some of my favorite performances by Richardson, and ones that show his range are:
The Fallen Idol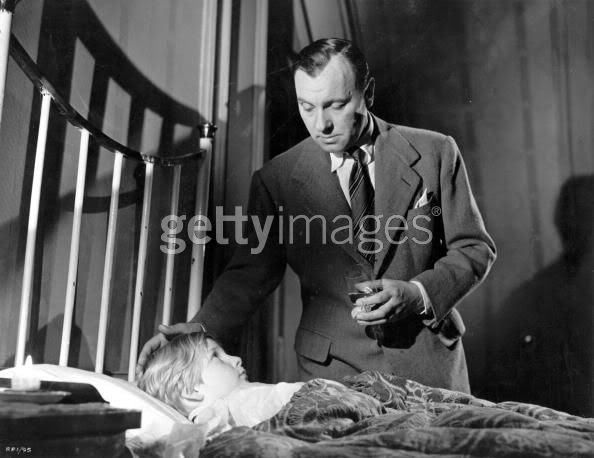 You can literally see Richardson's heart sink into his boots in this film, as he watches himself become the main suspect in his shrewish wife's murder. He cannot explain his secretive actions without incriminating the woman he loves, nor can he explain how his wife died, because he doesn't know. This is my favorite of his films and my favorite of his performances. It is, I think, his only romantic lead, and he actually is quite romantic, which is a great surprise. There is a weakness in his character that is strangely winsome. He and Michele Morgan are extremely well matched in this film, and their situation is heartbreaking. Richardson is so innocent, so understated, that the smallest flicker across his face can speak volumes. The camera eye picks up every detail of his nervousness, just as the policemen sent to investigate seem to. Every move he makes registers "GUILTY". It doesn't hurt that this film is directed by Carol Reed, another of my favorites. The actor/director combination is
perfect
, with Reed making us see Richardson through the eyes of a worshipful, lonely little boy. No wonder we love the quiet, gentle hearted "Baines" so much.
The Heiress
WOW. I think the only thing I can say is that he plays a man so in love with his dead wife that looking at his own unaccomplished daughter makes him ill. I watched this one the other night, with the intent to discover what really made Richardson's performance so brilliant, and I still haven't any answers. I simply don't know what his mechanics are - how he got to this performance. I do know that his scenes with Monty are wonderful and awful at the same time - his genuine pleasure at catching out Clift as a bounder is kind of horrible. He is brutal and ruthless, and so very smart. Clift doesn't even know he has been checkmated. You want to look away, but you can't.
His little remarks and double entendres go over everyone's head but ours....we know exactly what Richardson is thinking when he says to Catherine, "I shall be as fair and honest with him as he is with you." He is so tight in himself, and yet, it is a sad, sad performance. One could almost feel sorry for Dr. Sloper, but he wouldn't allow it, and neither does Richardson. He never slides into mawkishness, trying to make us like his character. This is why he continued to play these types for the rest of his life, specializing in characters like Judge Brack in
Hedda Gabler
and Dr. Rank in
A Doll's House
. He was so very good at them.
Anna Karenina
I am amazed that he played in The Fallen Idol, The Heiress, and
Anna Karenina
, all within a year and a half. Though his role as Dr. Sloper and his role as Karenin are close, they are certainly not the same character. Anna's husband has no humor, and he IS hurt, no matter what we think of him. The two men are alike in thinking more of their standing than of their family's happiness. I think Karenin is a bit more sympathetic.
Four Feathers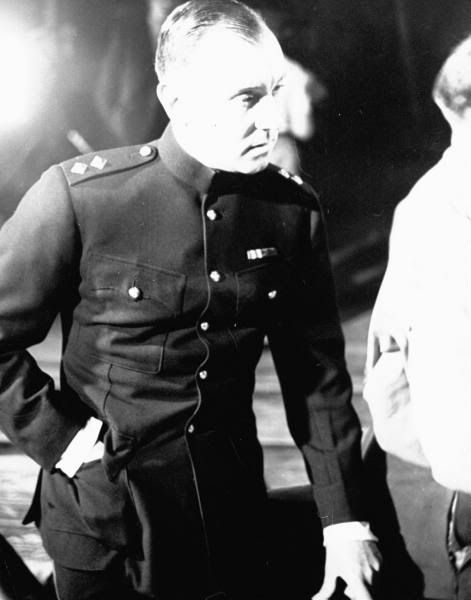 This is the first film where Richardson caught my eye. I realized while watching the film for the first time, that Richardson was unafraid, creative. He had no fear of the offbeat. This helped him enormously in his screen career.
The scene in the desert encampment when he realizes that he has gone blind is very powerful. His actions as commander to save his men while never letting them know he is blind never fail to move me. I really believe Richardson's blindness - his stumblings are almost comical (in the same way that Brando can be comical at the most serious of moments), and those actions ring true because of it. He makes you feel terrible for this man, who is going through hell, looks such a fool bumping into things, but he thinks only of his men and how he will get them out of danger. He is the epitome of the stiff upper lip British soldier, and you want him to make it, against all odds.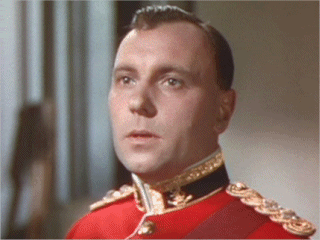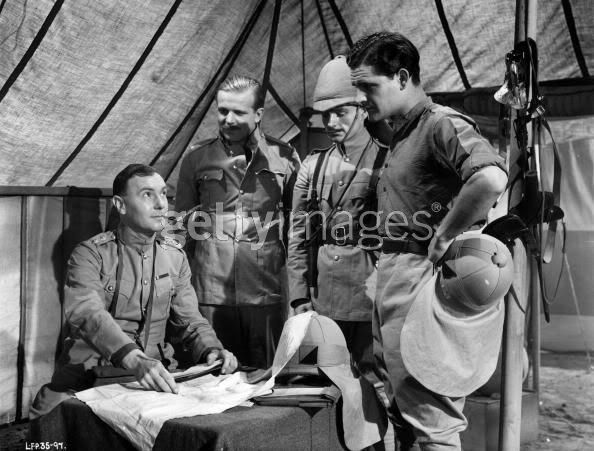 The Citadel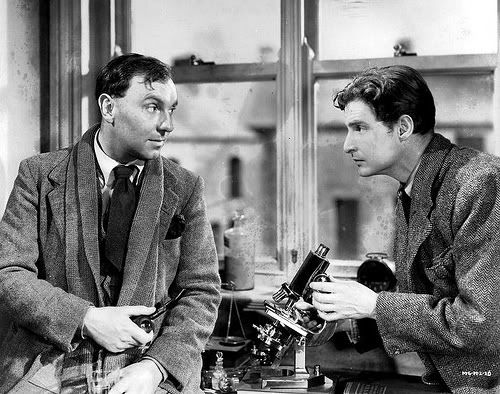 Richardson is just what's needed in this ultra serious movie. He plays Robert Donat's slightly batty but politically savvy friend, and he lends excitement to the proceedings, especially in the bomb sequence. This is Richardson at his most charming, oddball best, comedically. His humor and relaxed sarcasm are like a shot in the arm.... Oooh. Sorry.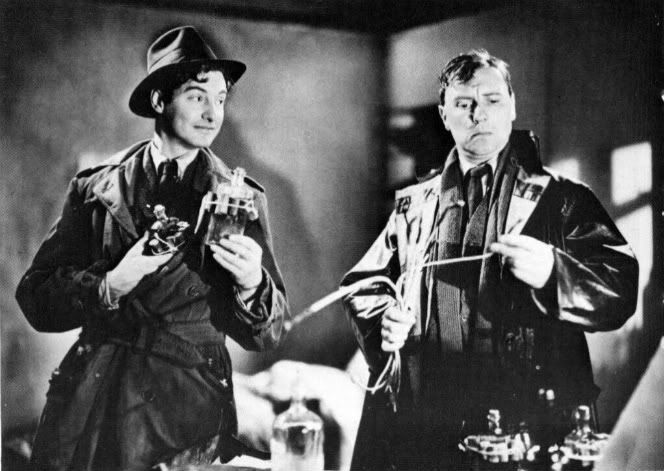 There are many films of his that I haven't seen. I saw an intense scene from
Long Day's Journey into Night
, but haven't seen the whole film. There are also a lot of films that I have seen, but don't remember, mostly later in his career. I think maybe it's time to revisit him, and maybe time to find some of his television performances, like Mr. Micawber in
David Copperfield
, 1969.
I like him immensely for his ability to bring humor into his performances. I like his oddness. He can be extremely silly. I also like his openness about acting in films:
"I've never been one of those stage chaps who scoff at films. I think they're a marvelous medium, and are to the stage what engravings are to paintings."
and
"Acting on the screen is like acting under a microscope. The slightest movement becomes a gesture and therefore the discipline has to be very severe."
I would like to know if he was certifiably mad or not, as Gielgud once said of him. I adore reading stories of him.... that he was once pulled out of a gutter in Oxford Street and when the policeman asked what he was doing he said he was walking his pet mouse. I must admit, I love his almost magical Puckishness in real life. If there were such a thing as time travel, the first thing I would do would be to go back to see Ralph Richardson as Falstaff. Or maybe just help him walk his pet mouse.