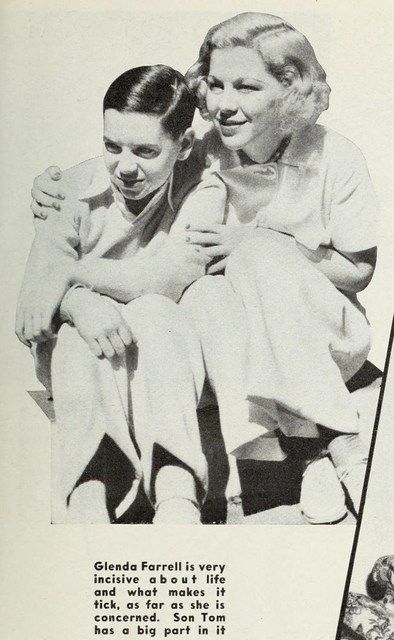 After finding out about an archived collection of vintage movie magazines in another thread (), I looked through some scanned issues of

Photoplay

magazine from Archive.org, and found quite a few interesting things. Among them was this interview.

In 1935, Howard Sharpe interviewed four stars (Gene Raymond, Dolores Del Rio, Pat O'Brian, and Glenda Farrell) for the November issue of

Photoplay

, asking each one what he or she considered most important in life. Here is his introduction:
Last week, while I watched fascinated, four Hollywood stars in four successive interviews sat opposite me and for a time examined themselves brutally, searchingly, so that I might have an answer to my question. I wanted to know: what matters most in life? What is the first important thing in your scale of values? And I got four different answers.
Here is Glenda Farrell's interview:
Glenda Farrell, in white slacks, romped through the doorway, and with her came a sort of breathless excitement. I flung my question at her and she laughed her answer: "Love!" Lounging opposite each other, we started a rapid fire dialogue with only an occasional pause for breath.
Glenda: It's the most important thing in the world. Take it away from me for just one day and I die a little, inside. Everything I do, all my philosophy, my living, is centered in it.
I: Who is he?
Glenda: Oh, I don't mean just the popular song type of thing. (Humming) "A world without love is a world without"—that's only a small percentage. I mean the deep affection I have for my family, for my friends, even for the menagerie I keep. And they must love me in return. You can define Glenda Farrell in four words—"Love and be loved". . . .
I: You think there are two kinds of love, then? One connected with a single definite person, I suppose, and spelled in capitals: L-O-V-E. And then the every-day pleasant affection for the cat and the two kid cousins and your friends at the studio.
Glenda: I suppose that's it. Maybe I just have a warm-hearted nature. But I can't hate anyone—and I can't bear it if somebody doesn't like me. Of course I fight like the dickens with my family, but we always make up six minutes later. I can't think of a person I dislike—there's always something lovable in everyone, you know. I say if you radiate love, others are bound to love you; overlook things in other people, be willing to give—of yourself and of your time and of your thoughts. If you don't enjoy doing that there's no happiness for you.
I: It takes a pretty big person to live like that. Petty people wouldn't stand a show.
Glenda: (Succinctly) Then be big.
I: Isn't success, money, important too? Glenda: (Disposing of success with a movement of her hand) Not so important. Of course I want it, but mostly so I can give my family things. It all gets back to the basic foundation of love—I adore them, so I must have success and money to make them happy.
I: But Glenda, love! Love in capitals. Where does that come in?
Glenda: (Frowning, biting her lip) I'm almost afraid to talk about that. It's a paradox, a bugaboo.
I: Why?
Glenda: Because I'm searching for something all-enclosing that I can't quite find. (Sitting up straight) If I could love someone the way I loved that truck-driver in my neighborhood when I was fifteen—if I could recapture a worship, so complete and unselfish, as that—then the world would be mine. (Lying back with closed eyes) It was a Mack truck he drove.... I never met him.
I: First love is always incomparable.
Glenda: That's why a woman shouldn't marry until she's older. The man she loves at seventeen is not the man she loves at twenty-five. She changes mentally and every other way—grows up, let's say-—between those ages. (Smiling suddenly) My son Tommy's in love now with his first girl. And what he goes through! He lies on his stomach on the floor and dreams into the distance. He says: "Well, I guess I'll make a phone call—" and then broods darkly for a while. Finally he says: "Mama, would it be good technique to call her today?—after all I said I would," and I tell him: "Make them wait, Tommy, make them wait." But he gets so miserable I tell him to go ahead. . . .And of course it's agony. I know. I suffer right along with him. But he lives on it— and so do I.