Since TCM has been broadcasting the
Buck Rogers
' serial
The Unknown Command
, I have discovered that it is an excellent program to watch with half an eye and ear cocked while cleaning house on Saturday mornings. This morning I was struck--not for the first time--by the wondrous dialogue. Is anyone else enjoying this serial?
In this case it was the distinguished Asian-American actor,
Philip Ahn
playing "Prince Tallen," who was protesting feebly that he was reluctant to don "one of Killer Kane's Amnesia Helmets" when a bad guy compelled him to become his minion. Being a minion with the pointy helmet on his noggin seems to make the Prince do the evil-doers' will and forces him to speak. in. a. monotone. like. this. and to move
verrrry slowwwllly
.
Fortunately, Buck (
Buster Crabbe,
who seems game for anything) and
Constance Moore
have other ideas. Now I find that IMDb
has confused
the issue of identifying Tallen correctly, as
a website devoted to Mr. Philip Ahn
indicates. Those usually accurate but fallible credit-counters at IMDb list Philip's younger brother, named
Philson
Ahn, as playing "Prince Tallen" too. Not that it really matters, but can anyone unravel this for me?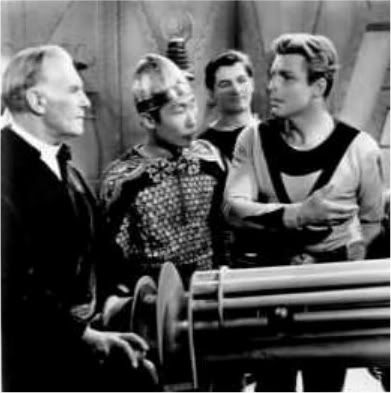 Above: C. Montague Shaw,

Philip or Philson Ahn

, Unknown actor, and Buster Crabbe in The Unknown Command. Note the pointy metallic cap on Mr. Ahn's head is the dread Killer Kane Amnesia Helmet.
While dusting, I was also brought up short by the sound of a deep, dignified voice that seemed familiar. Who should it be but
Carleton Young
, an actor I previously only knew from John Ford movies when he played roles such as Spencer Tracy's right hand WASP in
The Last Hurrah
, the prosecuting attorney in
Sergeant Rutledge
, and the newspaper editor in
The Man Who Shot Liberty Valance
. I barely caught sight of Young in his Buck Rogers' role, but have since learned that this actor, who could project more gravitas than Lewis Stone on a good day, spent many of his years as an actor playing in serials such as
Zorro's Fighting Legion
(1939),
The Lone Ranger Rides Again
(1939), and
The Adventures of Captain Marvel
(1941). This is just one more lesson in the cruel world of performing--if one wants to eat, one must do just about anything if you are an actor.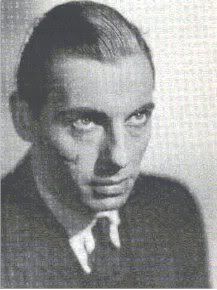 Above: Carleton Young in a Dick Tracy serial in '37.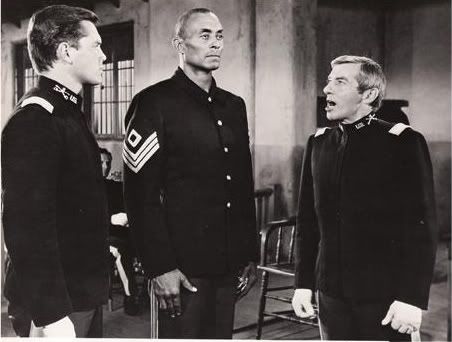 Above: A more familiar Carleton Young shouting down Jeffrey Hunter as he tries to defend the wrongly accused Woody Strode in Sergeant Rutledge (1960).