Thanks Nanette.
Of course I watched last night, but had the sound off at times while on the phone. I missed NOTHING.
What a horrible movie, I can't believe it ever made money...and a sequel?
BUT...I was tickled when Sven told us about the long varied career of Michael Des Barres who played the Evil Master Malcolm Graves:
Although completely recognizable, I couldn't believe he was the cute, loveable kid in
To Sir With Love
Still recognizable in his early rock star career:
..and still super handsome today! And I think he looks exactly the same!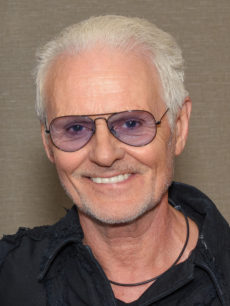 The Three Stooges shorts 6-8p had a few surprises too, although the episodes themselves were meh.
Outer Space Jitters
'57 had a monster played by Dan Blocker! Blocker obviously was a big, beefy guy. His cute face was obliterated by prosthetics but he used his body very effectively. Last scene, the babysitter is wearing the goofy make-up. Reminded me of the bear in
The Shining
-
...and the 1951 short
Scrambled Brains
had Shemp as mentally ill/delusional, with one scene where he was playing piano and extra hands emerged from his back playing with him. He slammed the keyboard cover down and broke off his fingers-the dismembered finger tips continued to play! All I could think of was that Japanese horror film
Hausu
'77.
Maybe horror gets it's inspiration from the Stooges?