Hello Kingme, you asked for my thoughts on
Prisoner of Zenda (1937)
I must have watched it half-a-dozen times, but not in the last few years (time to see it again.) I wasn't prepared to do a full review, so for what they are worth, here are some ramblings instead.
I thought, rather than post them on the Colman thread, it might be more fitting to start a
Prisoner of Zenda
thread. I deliberately didn't put a date in, so any
Zenda
adaptions can be discussed.
I prefer the 1937 version to the 1952 scene-for-scene remake (though I'm thankful that back in 1952, even remakes were good!). The casting and performances of Colman, Carroll, Fairbanks, Smith, and Niven couldn't be improved on and weren't. (The remake did have a more presentable looking Black Michael, making Antoinette de Mauban's strange obsession a little easier to accept.)
Douglas Fairbanks Jr. in particular stands out as a perfect casting choice (I really like James Mason, but he was miscast as Rupert.) Apparently Fairbanks was reluctant to accept the role, but when he asked his father's opinion was told he'd be crazy not to… it was the best part in the picture, Fairbanks Sr. said, Donald Duck could play the part and steal the show (But I think D. Duck would have been miscast too.) Not to belittle Fairbank's excellent portrayal; I think Rupert of Hentzau is one of those roles in which an actor can shine with minimal effort. Fairbanks couldn't actually steal the film, because the success of the picture rests most heavily with the actor playing Rassendyll: Roland Colman.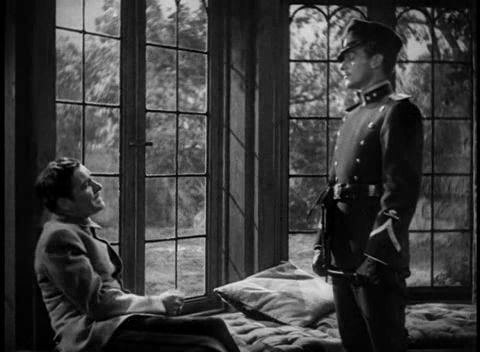 Rudolf Rassendyll, the dashing Englishman with a wry sense of humor, is both a heroic and tragic figure… which gives Colman ample opportunity to play the swashbuckling hero, but also depends on him to invest the character with that dignified sadness he frequently brings to a role. (As the King, Colman can't divest himself of a certain dignity even when drunk, but I think he does a respectable job of differentiating the two characters.)
Rassendyll and Flavia's bittersweet romance is played out wonderfully by Carroll and Colman, and their final scene together is both uplifting and heartbreaking.
In some movies I prefer black and white to color, and this is one. The cinematography was beautiful … I regret to say that I have never bothered to check who was responsible till now; it was James Wong Howe.
I have read the book, but not recently. I recall there were the usual inevitable changes, but one of the most notable differences comes about by the loss of the first person narration. When you are constantly inside a character's head, outer confidence can't fool you; Rudolf Rassendyll seems a bit of a head-case in the book (of course, he is under considerable stress), but even a conflicted Colman is reassuring and noble. (Also, in the movie it is hoped and presumed by the end that the King will change his ways. I believe it is shown in Anthony Hope's depressing sequel
Rupert of Hentzau
, things don't work out that way.)