Whoa! I'd never seen
Captain Nemo and the Underwater City
(1969) in all its baroque glory before today's airing on TCM. What do I look at first?
Chuck Connors' pompadour, which makes him 7'6" tall instead of his usual measly 6'5"?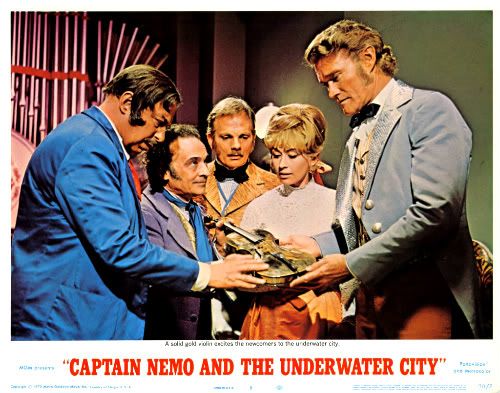 Robert Ryan keeping his dignity dry despite this costume?
Like its predecessor,
20,000 Leagues Under the Sea
(1953), Nemo (Robert Ryan) has used his scientific genius to create a hermetically sealed private world that is far more appealing than that fresh air world on land in the mid-19th century. Actually, the art director William Andrews and cinematographer Alan Hume deserve a nod for this one. They worked hard to to create the Crystal Palace design vibe and the Victorian candy box interiors they have constructed, if only the goof balls that Nemo tries to help become acclimated to his paradise were not so hell-bent on exploitation, escape and remaining blindly stupid, the movie might have had more of a chance. I suppose that director James Hill was allowed to make this movie after his mega-hit,
Born Free
(1966), which was one movie I was allowed to see--twice! But it was soon back to filming tv shows for Mr. Hill, where his imaginative if clunky style could make something special out of things like
The Persuaders
--though he did try to catch the zeitgeist on celluloid one more time with his follow-up project after Nemo:
The Man From O.R.G.Y.
(1970), which seems to be a neglected classic of its kind and time--and the only name I recognize in the cast was that of Robert Walker, Jr. Who knew that the day would come when I'd smile indulgently at a hip movie that I just know was trying too hard to be "with it."
Did anyone else see this movie?