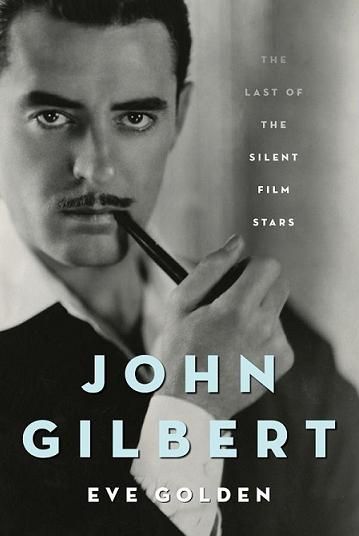 "He was always an enigma...many people...have been likened to mercury but Jack Gilbert
was
mercury. You'd touch him and he'd vanish."
- Leatrice Joy, actress, John Gilbert's ex-wife and the mother of Leatrice Gilbert Fountain
"One of Gilbert's problems was that when he finished a picture...he didn't have a character to do. He had to live with himself. That is one of the big problems, why he died so young..."
- King Vidor, director and friend of John Gilbert
"Why would they want to destroy one of their greatest stars?"
-Adela Rogers St. John, journalist
The Silver Screen Oasis is pleased to announce that
Eve Golden
, the author of
John Gilbert: The Last of the Silent Film Stars
(The University Press of Kentucky) will be our guest on Sat. May 18th and Sun. May 19th. In her recently published critical biography, our May guest author catches something of the quicksilver appeal of
John Gilbert
's appeal and mystery between the pages of a book, separating myth from reality through her extensive research and insights into the individuals involved in his story and in the context of the period. Reviewers have commented that this new biography is destined to be "the definitive biography of
John Gilbert
." Others pointed out that this look at the one of the great stars of his day is "well-balanced and far from dull, trashy movie star adoration," while "[d]ebunking the longstanding myths" and "paying heartfelt tribute to his talent and versatility." Ms. Golden's biography was recently chosen by Turner Classic Movies as
their featured book
of the month, offering the May Book Corner Sweepstakes for those who would like a chance to win this book.
Eve, who delighted us with her visit
here
at the Oasis in 2008, has written several books about film and theater history, including
Vamp
, a biography of Theda Bara,
Anna Held and the Birth of Ziegfeld's Broadway
; T
he Brief, Madcap Life of Kay Kendall
;
Vernon and Irene Castle's Ragtime Revolution
, and
Platinum Girl: The Life and Legends of Jean Harlow
. This time, Eve will be answering members' questions about the silent star and early talkies actor John Gilbert. Please consider this announcement your invitation to join us next weekend for a lively Q & A with Eve--especially since it will most likely be as entertaining as it is informative.
John Gilbert: The Last of the Silent Film Stars @The University of Kentucky Press
Eve Golden's Author Page at Amazon
Eve Golden's Website
Below is an excellent segment from Kevin Brownlow and David Gill's documentary series
Hollywood: A Celebration
(1980) dealing with the difficulties of stardom during the transitional period between silents and talkies. This episode features several particularly interesting first person interviews with those who knew John Gilbert:
[youtube]http://www.youtube.com/watch?v=gOQN5vNVYvo[/youtube]