Monika Henreid, daughter of Paul Henreid, visits The Silver Screen Oasis!
Currently working on a documentary and a biography of her father, Monika's
tribute to her father is currently airing on Turner Classic Movies as the
popular cable channel helps celebrate Paul Henreid as Star of the Month for July.
The Monika Henreid Q & A thread begins here:
viewforum.php?f=95&start=0
Actor, Director, and Producer Paul Henreid
[youtube]http://www.youtube.com/watch?v=QDVbctyewyI&sns=em[/youtube]
The trailer for
The Spanish Main
...
[youtube]http://www.youtube.com/watch?v=2-KGiwGn1d8&sns=em[/youtube]
Paul Henreid and Bette Davis in
Now Voyager
...
In preparation for a discussion of the life and work of Paul Henreid, enjoy this collection of Henreid's film appearances:
http://m.youtube.com/#/playlist?list=PL ... rcCQUEfbkE
Paul Henreid, a suave, romantic leading man who, in the 1940s and 50s, represented the epitome of continental charm. Henreid is best remembered as Ingrid Bergman's husband, the stoic Resistance leader Victor Laszlo, in
Casablanca
(1943) and for his classic romance in
Now Voyager
(1942) with Bette Davis in which he lit two cigarettes at the same time and handed one to Bette Davis.
The scion of an aristocratic Austrian family, Henreid first worked as a designer and translator at a Vienna publishing firm until he was discovered in an acting school performance by Otto Preminger, who was then Max Reinhardt's managing director. Henreid became a leading man with Reinhardt's theater company and appeared in two Austrian films in the early 1930s before he moved to England because of his anti-Nazi sentiments. There he starred on the London stage and in films, ironically being cast as a Nazi officer in
Madman of Europe
and as a Gestapo agent in Carol Reed's
Night Train
(both 1940). Moving to the US in 1940, he was again cast as a German in the Broadway production "Flight to the West".
Signing with RKO Radio Pictures in 1941, Henreid played his first heroic role as a Free French R.A.F. pilot in his Hollywood debut,
Joan of Paris
(1941). It was the first of many films in which he would dramatize the wartime plight of sympathetic Europeans.
In the 40s and 50s, Henreid starred in the swashbucklers such as
The Spanish Main
(1945), L
ast of the Buccaneers
(1950), and
Thief of Damascus
(1952), and melodramas like
So Young, So Bad
(1950) and
Stolen Face
(1952). With his career opportunities as a romantic lead dwindling, he switched to producing and directing, especially on TV, where he directed numerous episodes of "Alfred Hitchcock Presents", "The Schlitz Playhouse", "G.E. Theater", "Maverick" and "Bracken's World". In 1964, Henreid reteamed with his "Now, Voyager" and "Deception" (1946) co-star Bette Davis, directing her in the dual roles of homicidal twin sisters in the suspense melodrama
Dead Ringer
.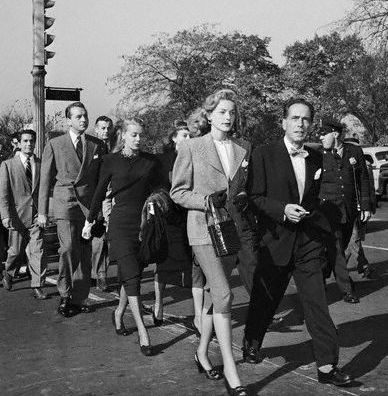 Richard Conte, Paul Henreid, June Havoc, Lauren Bacall, and Humphrey Bogart preparing to attend HUAC hearings...
Blacklisted in all German-speaking countries in the 30s, England in the 40s, and America in the 50s, Henreid's life in some ways mirrored that of his iconic character Victor Lazlo in
Casablanca
, but even surpassed those struggles in his private life.
The Silver Screen Oasis is proud to welcome Monika Henreid!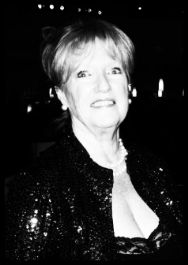 Monika Henreid in Club TCM at the Turner Classic Film Festival 2013...