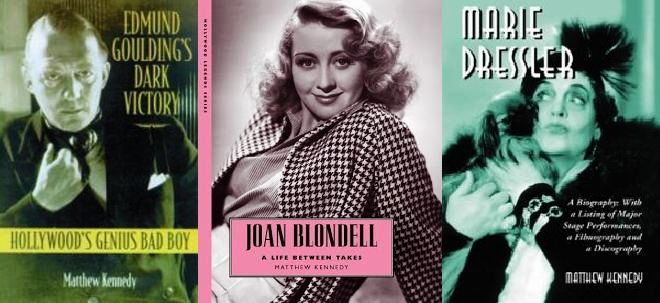 Welcome to our May Guest Star
Matthew Kennedy
, the author of "Marie Dressler: A Biography" (McFarland), "Edmund Goulding's Dark Victory" (Univ. of Wisconsin Press) & "Joan Blondell: A Life Between Takes" (Univ. of Mississippi Press).
We're delighted to welcome
Matthew Kennedy
to the Silver Screen Oasis today. To begin, your scholarly yet entertaining books have shed more light on the lives and careers of three familiar yet shadowy figures from the classic film era.
Could you please describe how you went about choosing these subjects, or did they choose you?
Where did you begin in unearthing such a wealth of little known information about each of these individuals?
Thank you for your answers and, most of all, for visiting with us this week.
Moira