Your invitation is here! Let's mark the unofficial end of Summer with a weekend with award-winning journalist
Steve Taravella
, the author of
"Mary Wickes: I Know I've Seen That Face Before"
(University Press of Mississippi). The thread devoted to the Q & A with this author is now open at the link below. Steve Taravella will be here on 8/31 & 9/1 to answer you questions:
viewtopic.php?f=96&t=6323
~~~~~~~~~~~~~~~~~~~~~~~~~~~~~~~~~~~~~~~~~~~~~~~~~~~~~~~~~~~~~~~~~~~~~~~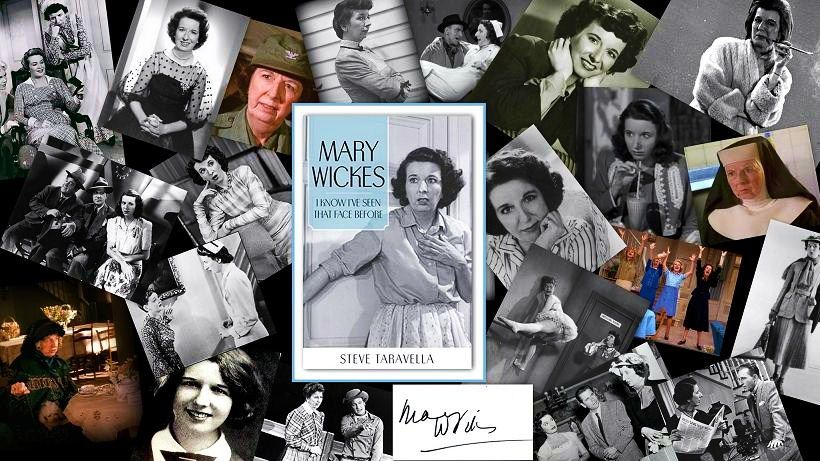 For many of us, she is a touchstone as much as one of the character actresses who helped define the classic qualities in films such as
Now, Voyager
,
The Man Who Came to Dinner
,
White Christmas
,
By the Light of the Silvery Moon
,
Sister Act
, and more. Whenever
Mary Wickes
pops up in a film, you know that there is something delightful about to happen, even when this performer took roles that might seem smaller than her talent. Mary whipped each role to an entertaining, insightful froth that put the fizz into plays, television and films well beyond the words in the script. Some of the ingredients in her talent were a bit of realistic vinegar along with a dash of humorous ginger, as well as a droll and often elegant touch conveying a character's life story in a few words with just a raised eyebrow, a shrug, or an air of brisk efficiency.
Off-screen, her friendship was treasured by many people in and out of the spotlight, including playwright
George S. Kaufman
,
Bette Davis
,
Lucille Ball,
Doris Day
,
Garson Kanin
and
Ruth Gordon
. An only child and a deeply devout person, Mary was exceptionally close to her mother and father, yet avoided contact with part of her family, despite her filial devotion. A strong work ethic, a lifelong habit of reticent stoicism, and a sensitivity about her gangly, 5'10" appearance may have played a part in her remaining independent and single at a time when convention directed most women into marriage.
Working for more than a decade, biographer
Steve Taravella
has gathered the elements of Wickes' public and private life through his research and almost 300 interviews with various people who knew
Mary Wickes
. Reading his book--even though we think we know
Mary Wickes
from her many roles as a nurse, a housekeeper, a nun, or a likable know-it-all--unveiled much more about this individual's long career. You can read more about the background and the purchase of this welcome biography
here
. Did you know that:
Mary Wickes
was the original
Mary Poppins
?
Mary Wickes
was the Disney animators' model for Cruella de Vil of
101 Dalmatians
fame?
Mary Wickes
was a member of Orson Welles' groundbreaking Mercury Theatre and appears in the newly restored Welles film,
Too Much Johnson
?
Mary Wickes
was one original cast member who appeared in the stage, screen and television versions of
The Man Who Came to Dinner
?
If you would like to know more about this intriguing lady and exchange your thoughts with
Steve Taravella
, please join us, beginning two weeks from today, as we gather to celebrate the life and career of
Mary Wickes
. I'll bring the virtual hot dogs and cole slaw to our Labor Day weekend festival--you bring the questions, okay?: