The Silver Screen Oasis
is pleased to announce the visit of guest author
Martha Crawford Cantarini
to discuss her wonderful book,
Fall Girl: My Life as a Western Stunt Double
(McFarland 2010) with us on Sat., Oct 5th & Sun. Oct. 6th. The memoir was written by the veteran horse trainer and stunt rider with co-author
Chrystopher J. Spicer
and was described by several reviewers as:
"Moving...this book has much to offer fans of the Golden Age...valuable...soulful magic...I'm thankful for this book in which she and her co-writer tell her story so beautifully" -

-Classic Images

"Fascinating...captivating...not to be missed" -

Western Clippings

"I knew when I was asked to do

The Big Country

that I needed a good stunt double. Well, I got her. I got the best...Martha Crawford." --

Jean Simmons

, Academy Award-nominated actress.
Martha (whose screen name here on the SSO is
rerun
), has been honored with a
Golden Boot Award
for her contributions behind the scenes in Hollywood Westerns and has been inducted into the
Hollywood Stuntmen's Hall of Fame
. Yet that is only part of this remarkable woman's story.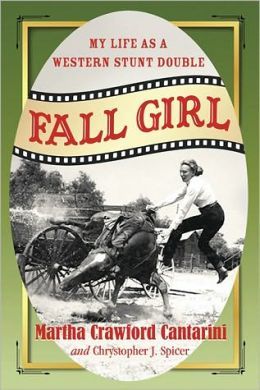 This film veteran quite literally grew up in Hollywood, riding horses with Spencer Tracy's children, rubbing elbows with Hollywood stars, and learning about what was real and what was tinsel in the movie capital. In her own words, Martha describes herself as having been born "in San Antonio, Texas, moved to Santa Monica, California at the age of 7 and raised by a professional polo playing father. A flop of a screen test at 20th Century Fox resulted in an offer for my first stunt doubling job! [Be sure you ask her who got that coveted contract at the studio!]. That was what I wanted to do all along! Soon I was selected to do the riding for most all of the glamorous stars...I wrote
Fall Girl
for the horse lovers who know that the horses are their real teachers and indeed the unsung heroes of Western films."
Her name may not be familiar, but--if you were impressed with
Anne Baxter
's tussling in
Yellow Sky
(1948) or
Eleanor Parker
's Wagnerian ride in
Interrupted Melody
, or
Carroll Baker
and
Jean Simmons
' horsemanship in
The Big Country
(1958), you know this skilled lady's work.
In her book, we learn of the hard work, fun, and sparks that sometimes flew while doing her job, which included working on films with legendary directors such as
Michael Curtiz, William Wellman, William Wyler, Anthony Mann, Budd Boetticher, Otto Preminger
and more. Not only has
Martha
formed friendships with everyone from
Spencer Tracy
to
Jean Simmons
to
Clark Gable
to
Eleanor Parker
, her story also includes an account of a very busy, very grounded private life and her tenderness toward the creatures who have shared her life on and off screen. The respect and love she felt for the famous and not-so-famous people and horses she knew leaps off the pages of her book. Now is our chance to read her observations of a life of dedication and skill as our guest enters the main spotlight for this first weekend in October. Won't you join us for the ride?
Below are a list of links with further information about
Martha Crawford Cantarini'
s life and career:
Fall Girl: My Life as a Western Stunt Double
[Sources for this book]
SecondRunning.com
[Martha's web site]
Martha Crawford IMDb Page
Interview with Stunt Double Martha Crawford Cantarini by John Greco @Twenty Four Frames Blog
All Star Equine - Show Biz Horses
[Martha and her Horses]
My Friend Flicka - The Stunts
Martha Crawford Cantarini Playlist on Youtube
Polo, Anyone? @Movie Morlocks
[An account of polo in Hollywood]