My friend Mary Mallory will be our Guest Author this upcoming weekend, Oct. 26th and 27th. Mary is a film historian, photograph archivist, and researcher, focusing on Los Angeles and early film history.
[The Q & A thread for Mary Mallory is now open here]
She writes theatre reviews for "The Tolucan Times" and blogs for the "LA Daily Mirror." Mallory serves on Hollywood Heritage, Inc.'s Board of Directors, and acts as a docent for the Hollywood Heritage Museum. As a member of the Studio City Neighborhood Council, she produced the event, "Mack Sennett and the Birth of Studio City," and helped produce the 75th Anniversary Celebration of Republic Pictures.
Through her work with Hollywood Heritage, she works to preserve not only the history but the buildings and signage connected with Tinseltown such as Grauman's Chinese theater, the Cinerama Dome and the El Capitan.
She has an in-knowledge of Los Angeles history with an emphasis on the early history of Hollywood as well as the famous DeMille/Lasky Barn from DeMille's production of The Squaw Man, the first film to be shot in Hollywood and Hollywood Heritage's long struggle to preserve the barn that is now a museum and headquarters for Hollywood Heritage.
Her books on early Hollywood history include: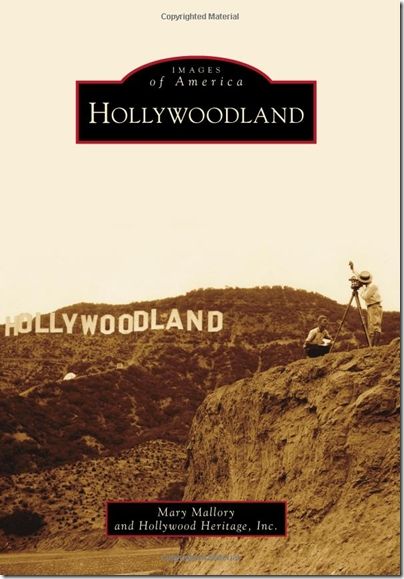 Hollywoodland
(
http://tinyurl.com/kjcqh24
)
Hollywoodland was one of the first hillside developments built in Hollywood. Touting its class and sophistication, the neighborhood promoted a European influence, featuring such unique elements as stone retaining walls and stairways, along with elegant Spanish, Mediterranean, French Normandy, and English Tudor-styled homes thoughtfully placed onto the hillsides. The community contains one of the world's most recognizable landmarks, the Hollywood sign, originally constructed as a giant billboard for the development and reading "Hollywoodland." The book illustrates the development of the upper section of Beachwood Canyon known as Hollywoodland with historical photographs from Hollywood Heritage's S. H. Woodruff Collection as well as from other archives, institutions, and individuals.
Hollywoodland: Tales Lost and Found (E-book edition)
(
http://tinyurl.com/k6qmcyd
)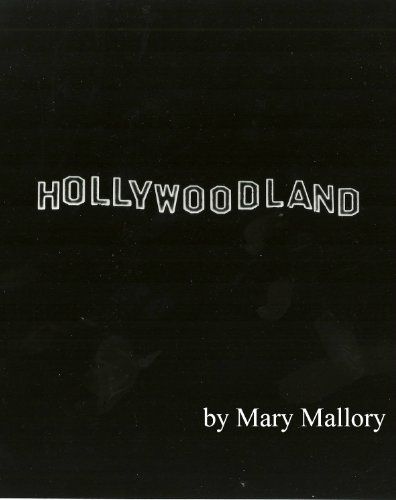 On Mt. Lee, in Hollywood's storied hills, sits one of the world's most recognizable landmarks, the Hollywood sign, originally constructed as a giant billboard for a housing development. The sign originally read "Hollywoodland" and--minus the last four letters--is an indelible image representing Hollywood and the film industry to the world. This book is a collection of historical essays on Hollywood's Tales Lost and Found, documenting the forgotten personalities, events, art, architecture, music, and films of the early twentieth century.
Los Angeles Daily Mirror:
(
http://ladailymirror.com/category/mary-mallory/
)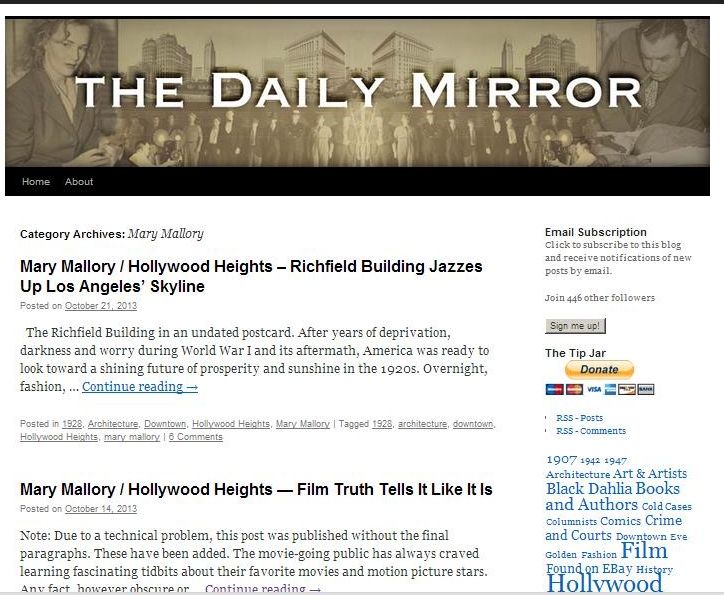 Mary is regular contributor to this site dedicated to the stories and history of Los Angeles and Hollywood.
So, I hope you will join us for the Q&A with Mary this weekend.