The Q & A thread for Margaret Talbot is now open here.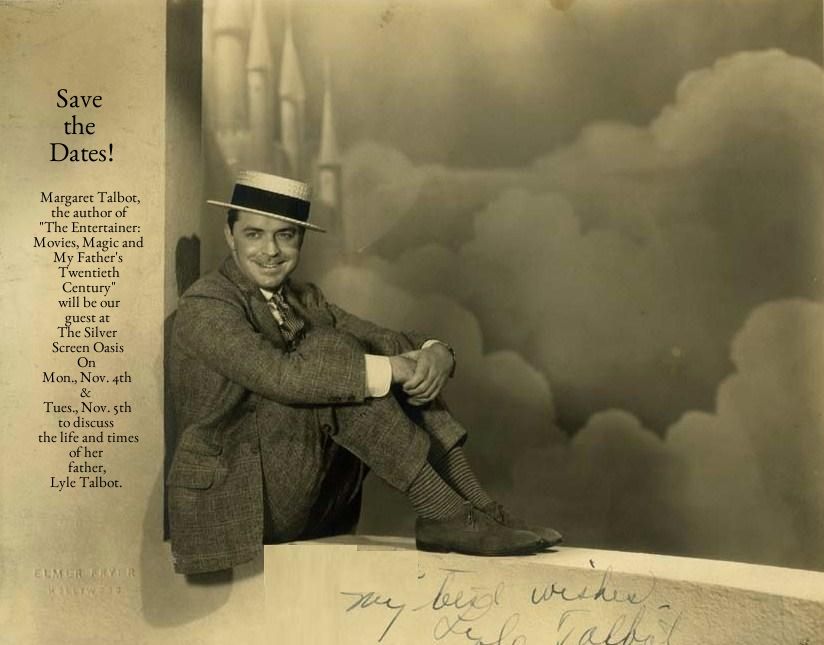 With considerable delight, The Silver Screen Oasis is pleased to announce that our next Guest Author will be
Margaret Talbot
on Monday, Nov. 4th and Tuesday, Nov. 5th. Her delightful and thoughtful book about her father
Lyle Talbot
and his times,
The Entertainer: Movies, Magic, and My Father's Twentieth Century
(Riverhead Press), is just becoming available in paperback.
In her own words, the youngest daughter of the actor
Lyle Talbot
explains that her father 'led a resolutely unexamined life,' but perhaps that was to his disadvantage, considering some of the vicissitudes he endured. Most of us think we know
Lyle Talbot
, having seen him at least once among the hundreds of movies and television shows from 1931 to 1987 in which he appeared as an actor. Capturing the feel of each period that her father lived through, Margaret traces his rambling path from the lonely Midwest, to life on the road as a magician's assistant, traveling with a carnival as a barker, a brief stint as a hypnotist's assistant, eventual acting jobs, life in stock companies and eventually the movies, Broadway, radio and television. At the height of his popular success in the 1930s, he was a promising Warner Bros. contract player who often played an appealingly jaunty fellow--even if his characters were sometimes rather unreliable screen partners. In these years he appeared with the likes of
Carole Lombard, Shirley Temple, Humphrey Bogart, Loretta Young, Barbara Stanwyck, Ann Dvorak
, and
Kay Francis
. His film credits in that decade include precodes such as T
hree On a Match, No More Orchids, 20,000 Years in Sing Sing, Mary Stevens, MD, Mandalay, Heat Lightning
, and many more. As his career went on, his position in the Hollywood firmament shifted, and his personal life sometimes took a chaotic turn, but
Talbot
's appearances in leading roles in B movies have also endured, including notoriously bad (but enjoyable) movies he made with filmmaker
Ed Wood
and others.
What makes this biography so different from most is the gifted Margaret Talbot's skill in evoking each of the periods that helped to shape her father and his films. She brings to life the raucous, insecure and rather romantic atmosphere of early Hollywood, as well as the impact of these and other transient institutions on the lives of the players and audiences. At the center of the book, however, is the dapper, "something-will-always-come-along" spirit of her father that informs every page so beautifully, as well as the realization that Margaret's mother, the actor's fourth wife, and the family that they created may have been his greatest bit of luck and finest achievement. Writing about her father, she describes him as a man who was "not especially good with money, respectful of fleeting joys, tenderly susceptible to beauty."
While
The Entertainer: Movies, Magic, and My Father's Twentieth Century
is her first book, Margaret Talbot has contributed her writing talents for analysis and insight to
The New Yorker, The Atlantic Monthly, The New York Times
,
Salon
, and
The New Republic
, among others. Please join us at the SSO next Monday and Tuesday to share in exploring the honesty, humor and romance that Margaret evokes through this story of her father's life and times.
Below are links related to Margaret Talbot's writing career:
Reviews of [b]The Entertainer: Movies, Magic, and My Father's Twentieth Century
[/b]
An Interview with Margaret Talbot on NPR's "Fresh Air"
Margaret Talbot Articles in The New Yorker
The Talbot Family Players
Upcoming Lyle Talbot Films on TCM
Lyle Talbot on Youtube