The Silver Screen Oasis is pleased to welcome
Noah Isenberg
, the author of
Edgar G. Ulmer: A Filmmaker at the Margins
(Univ. of California Press) on Thursday, Jan. 30th & Friday, Jan. 31st.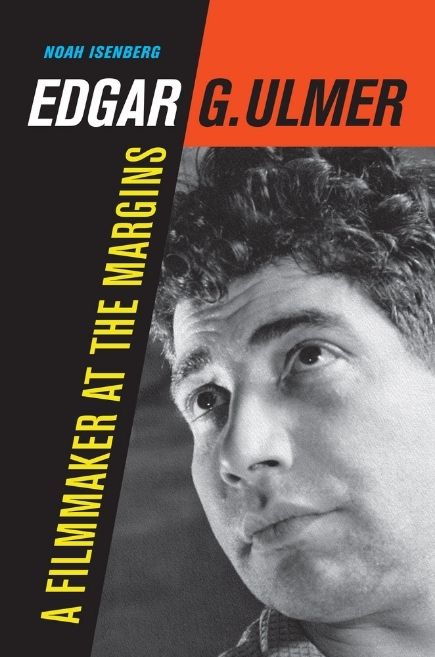 Mr.
Isenberg
, whose book is
the TCM selection
for the month of January's book corner, will discuss his newly published study of the creative man behind many films including the slice-of-life documentary style movie,
People on Sunday
(1929) (made with Billy Wilder, Fred Zinnemann, Robert Siodmak, et al in Berlin), the stylish horror classic
The Black Cat
(1934), an interesting twist on the artist as madman with
Bluebeard
(1944), the peerless film noir
Detour
(1945), and a very Freudian retelling of Hamlet--
Strange Illusion
(1945)--as well as a trio of affecting stories of Jewish life, especially
The Light Ahead
(1939).
While his Berlin contemporaries went on to legendary success in Hollywood, the peripatetic odyssey of
Edgar Ulmer
(1904-1972) took him from the waning years of the Austro-Hungarian empire to the post-modern age, making films in America and abroad throughout his career. Coping with smaller budgets and sometimes paltry material, Ulmer's artistic and technical skills were often sharpened as an independent filmmaker, encompassing everything from writing to art direction to producing as well as directing. While often overlooked in the past,
Edgar Ulmer
's work has only truly begun to be more fully explored in recent decades as the best of them are rediscovered.
Ulmer
's reputation is fortunate to have Noah Isenberg as his newest biographer. Noah's engaging writing style, worldwide research, numerous interviews, and the examination of previously neglected private correspondence have enabled him to capture a more nuanced, human portrait of the filmmaker--acknowledging
Ulmer
's frustrations, insights, sometimes funny and occasionally poignant experiences and contradictions.
Our upcoming guest author is the Director of Screen Studies and Professor of Culture and Media at Eugene Lang College-The New School for Liberal Arts in New York City has recently participated in an event at NYC's Lincoln Center celebrating Ulmer's work and attended by our SSO member CineMaven (Theresa) and discussed in some detail
here
.
Previous books published by our upcoming guest include
Detour
(British Film Institute, 2008) and he edited a collection of essays,
Weimar Cinema: An Essential Guide to Classic Films of the Era
(Columbia, 2009). In addition to these accomplishments, Noah currently serves the book review editor of
Film Quarterly
magazine, and is writing a new book,
Everybody Comes to Rick's: How 'Casablanca' Taught the World to Love Movies
, to be published by W.W. Norton in the US and by Faber & Faber in the UK. (Here's hoping we can touch on this latter topic during his visit too).
Please join us in learning more about this filmmaker next week for two days on 1/30 & 1/31. This visit promises to be an especially enlightening exchange.
The following are resources related to our guest Noah Isenberg and the topic of Edgar Ulmer

:
Sources for Edgar Ulmer: A Filmmaker on the Margins
Noah Isenberg's website:
http://noahisenberg.com/
Follow Noah on Twitter:
@NoahIsenberg
Online Press Links for Edgar Ulmer: Edgar G. Ulmer: A Filmmaker at the Margins
A Playlist of Edgar Ulmer Films on Youtube
Edgar Ulmer films on The Internet Archive