The Silver Screen Oasis is pleased to welcome author
Scott Eyman
on May 8th & 9th to discuss his recently published biography,
John Wayne, The Life and Legend
(Simon & Schuster). This book has been one of the most anticipated biographies in recent years by many readers.
Why the excitement?
There have been several biographies of the iconic actor, but none of them quite captured the humanity of the individual whose remarkable journey over seventy-two years took him from a hard-scrabble boyhood to worldwide fame. In details large and small, Scott Eyman's recounting of the story of Wayne's life illuminates the comment made by the actor in his later years: "The guy you see on the screen isn't really me. I'm
Duke Morrison
, and I never was and never will be a film personality like
John Wayne
. I know him well. I'm one of his closest students. I have to be. I make a living out of him."
As known by those who relished the recent week-long observation of
John Wayne
's career on
Turner Classic Movies
with
Robert Osborne
&
Scott Eyman
introducing many films, the author's insight into this actor's legacy is notably lacking in cant, but he has a keen eye for
Wayne
's abilities, ambitions, and foibles as an actor and a man. As well as covering the major films, the colorful individuals, and often unexpected aspects of the actor's life, the author touches on the impact of his presence on the shifting American cultural landscape and his enduring effect on people of every ideological stripe as
Wayne
shaped a strong, yet often remarkably vulnerable definition of American masculinity.
The keen anticipation of this book is hardly surprising, considering the incisive quality of
Eyman
's previous books such as
Ernst Lubitsch: Laughter in Paradise
,
John Ford: Print the Legend
,
Mary PIckford - From Here to Hollywood
and
The Speed of Sound: Hollywood and the Talkie Revolution 1926-1930
. Each of these were enriched by our guest's meticulous and insightful research, gifted storytelling, and a welcome eye for the humorous element in these accounts.
(Please click on the image below for more about these books)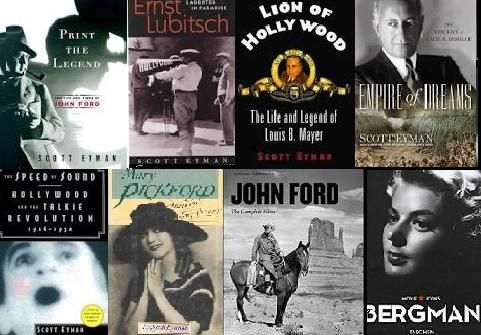 In his previous visit to our message board in 2007,
Scott Eyman
discussed several of these rich topics with us. This opportunity to explore this definitive Wayne biography also allows us to ask the author about the books released since his last visit. These include his compulsively readable and unprejudiced assessment of a legendary mogul in
The Lion of Hollywood: The Life and Legend of Louis B. Mayer
and his take on a legendary films and life,
Empire of Dreams: The Epic Life of Cecil B. DeMille
, among others. This sojourn also comes at a time when another book that Scott has since co-authored, the just-released memoir
You Must Remember This: Life and Style in Hollywood's Golden Age
, a follow-up to his earlier work with Robert Wagner,
Pieces of My Heart
. The recent book, documenting the sea change in Hollywood in Wagner's time, has been described by reviewers as providing a "convincing sense of what it was like in the glittering firmament a half-century or more ago" and is told with "great affection and a twinkle in [the] eye" within its pages.
(Please click on the above image for more information about these books)
Please join us on Thursday, May 8th & Friday, May 9th for this rare opportunity to share in an online Q & A with Scott Eyman.
Below are links to reviews of
John Wayne: The Life and Legend
as well as
Scott Eyman
's other books and appearances online and in the media:
Scott Eyman's website
:
http://www.scotteyman.com/
Scott Eyman's Previous Q & A at the SSO
Reviews of John Wayne: The Life and Legend
Scott Eyman on NPR's Diane Rehm Show