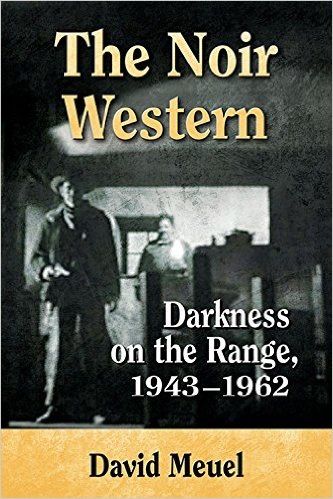 Beginning in the mid-1940s, the bleak, brooding mood of film noir began seeping into that most optimistic of film genres, the western. Story lines took on a darker tone and western films adopted classic noir elements of moral ambiguity, complex anti-heroes and explicit violence. This "noir western" helped set the standard for the darker science fiction, action and superhero films of today, as well as for acclaimed TV series such as HBO's
Deadwood
and AMC's
Breaking Bad.
Join us in welcoming David Meuel, the author of the new book,
The Noir Western: Darkness on the Range 1943-1962
(McFarland, 2015) to The Silver Screen Oasis for a discussion of this intriguing development in film during the mid-20th Century. The dates are Friday July 24 and Saturday July 25 (which, incidentally, has also been designated the 11th Annual Day of the Cowboy).
Since TCM's "Summer of Darkness" project screens films noir every Friday in June and July this summer, 12,000 students have signed up for the online film noir course taught by Richard Edwards from Ball State University on Canvas, and the free course has sparked much renewed interest in the genre. Perhaps a series on Meuel's
The Noir Western: Darkness on the Range 1943-1962
might be the next logical step in further focusing on film noir.
This past April, Meuel was a featured speaker at the Yerba Buena Center for the Arts in San Francisco for its film series,
Dark Horse: Film Noir Westerns.
A lifelong student of films, he is also the author of
Women in the Films of John Ford
(McFarland, 2014), an in-depth examination of a fascinating, but often overlooked, facet of the iconic director's work. Meuel lives in Menlo Park, California, and has also published two volumes of poetry.
Links:
Immortal Ephemera:
Review of
Women in the Films of John Ford
:
http://immortalephemera.com/53655/women ... john-ford/
Review of
The Noir Western: Darkness on the Range, 1943-1962
:
http://immortalephemera.com/57851/tcm-p ... pril-2015/
Barnes and Noble link to
The Noir Western
:
http://www.barnesandnoble.com/w/the-noi ... 0786494521
The Evening Class Blogspot has an excerpt from
The Noir Western
:
http://theeveningclass.blogspot.com/201 ... ss-on.html
The National Day of the Cowboy:
http://nationaldayofthecowboy.com/wordpress/
Christy Putnam's review of
Women in the Films of John Ford
:
http://www.examiner.com/review/women-th ... -john-ford
TCM and Ball State's Online Film Noir Course:
https://www.canvas.net/browse/bsu/tcm/courses/film-noir
David Meuel's author page:
http://www.amazon.com/s?ie=UTF8&page=1& ... id%20Meuel