It's "all about Ayres" later this month as The Silver Screen Oasis cordially welcomes another Guest Author in October!
[
Please Note: The Q & A thread devoted to questions for Lesley Coffin is now open and can be found here on this site.
]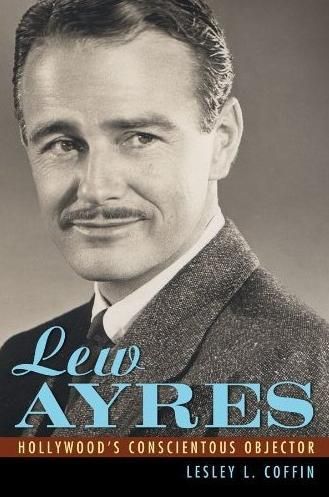 Lew Ayres
did it all during his long career. From silent film to classic sit-coms; he expressed his boyish passion for Greta Garbo in her last silent
The Kiss
(1929); played the doomed protagonist in the shattering film
All Quiet on the Western Front
(1930), described as "a landmark of world cinema," did an unexpectedly brilliant, bittersweet turn in
Holiday
(1937); found great fame as
Dr. Kildare
; appeared in the outlandishly entertaining sci-fi,
Donovan's Brain
(1953); made a few movies that were barely "B's", and made two documentaries that reflected his lifelong search for spiritual values.
From
Friday, Oct. 26th through Monday Oct. 29th
we welcome the opportunity to learn more about
Ayres
during a visit at The Silver Screen Oasis by
Lesley L. Coffin
, the author of the upcoming biography,
Lew Ayres: Hollywood's Conscientious Objector
(University Press of Mississippi, 2012). This first full length biography of the Oscar-nominated actor was written by Ms.
Coffin
using previously untapped oral histories from the TCM Archives at The University of Georgia-Athens, the Hollywood Film Oral History Project at Columbia University in NYC, and the comments of friends of Mr.
Ayres
throughout his life. Perhaps best of all, the actor's unpublished autobiography and the memories of the actor's son, Dr.
Justin Ayres
, who practices medicine in Los Angeles, helped to fill in much of the story.
Often remembered best off-screen for his principled stand during World War II as a conscientious objector,
Ayres
had what has been described as a "quiet dignity, constantly searching for the right way to live his life and torn between the public world of Hollywood and secluded life of spiritual introspection." He was also a part of the rise and transformation of the film industry in three eras (silents, sound, and television); was married to three vital-sounding women: actresses
Lola Lane
,
Ginger Rogers
, and a lasting 32 year marriage to "civilian"
Diana Hall,
with whom
Ayres
became a father for the first time two days shy of his sixtieth birthday.
Below you can see a brief trailer from
Lesley Coffin
with lovely images promoting this book:
[youtube]
[/youtube]
A serious biographer blessed with a sense of humor as well as a gift for research, the personable
Lesley L. Coffin
describes herself as "a midwesterner at heart, who happens to reside in New York City (by way of Queens). I come from the hometown of John Hughes (yes, I went to Ferris Bueller's high school and we did have Saturday detention), went to college at Ball State University (that place David Letterman always talks about giving money to) and completed a Masters degree at New York University. I try to write books about film and Hollywood (I have one coming out and two in the works) and think both seriously and humorously about the world of film, television, and Hollywood. Even as a kid I tended to want to analyze anything and everything I watched, a character trait I still have and channel into my creative pursuits to avoid driving friends and family crazy. My taste in movies are all over the place, but I love interesting films and the film world."
Please plan on stopping by The Silver Screen Oasis from
10/26/12 to 10/30/12
to post and read the Q & A about this book. We'll be honored to share your company!
You can read more about this biography, the author, her other published writing and her future projects at her website below. Lesley can also be heard on her Classic Comedy Film Podcast at the link below.
http://www.lesleycoffin.com/
http://lesleycoffin.podomatic.com/