"When people ask me where I received my education, I tell them it was at MGM-U. The biggest lessons I learned is that acting is a talent. You can't teach it. And even if you have the talent you have to get a part." - Richard Anderson
Author Al Doshna, whose background as an actor and writer make him an apt choice to co-write a memoir by veteran actor Richard Anderson, will be joining us Saturday, June 6th and Sunday, June 7th at the Silver Screen Oasis. His latest book was written with an actor of exceptional range, whose life on and off the set is explored in
Richard Anderson: At Last, A Memoir From to the Golden Years of MGM and The Six Million Dollar Man to Now
(BearManor). The book, described by one reviewer as a "fascinating treasure trove of anecdotes from throughout Richard's amazing life," has been hailed by more than one reader as a book in which "every page [is] like a cozy fireside visit with friends."
Al Doshna covers Anderson's humble beginnings as a young contract actor at that most fabled of dream factories, MGM to his early roles including
FORBIDDEN PLANET, SCARAMOUCHE, ACROSS THE WIDE MISSOURI
, and
THE BUSTER KEATON STORY
. Such legendary figures as Spencer Tracy, Clark Gable and Cary Grant are part of his life in each chapter, along with exceptional directors such as John Sturges, William Wellman, John Frankenheimer, and Stanley Kubrick.
Anderson was also there for the classic era of television with stints on everything from Disney's take on
Zorro
to
The Rifleman
to
The Man from U.N.C.L.E.
. And he starred as Oscar Goldman in the classic series,
The Six Million Dollar Man
and
The Bionic Woman
. The actor, whose debonair style blends nimbly with a natural gravitas, offers his own insights into the changing nature of the entertainment business as he also comments on the artistry and craftsmanship he has witnessed in a career that has spanned over half a century.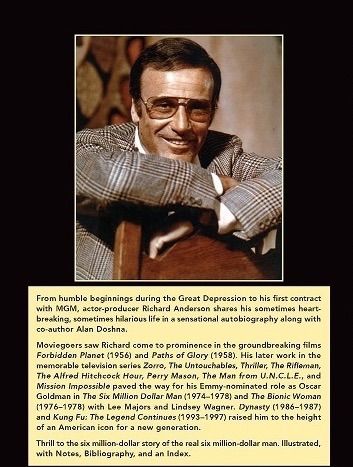 Please join us on June 6th and June 7 to discuss with Al Doshna this distinctive actor's travels from stage, screen, and television and to explore the wide-ranging interests of the author into the world of entertainment. All are welcome!
Al will be here Saturday, June 6th and June 7th to take your questions!