Author and historian Jeremy Arnold will visit The Silver Screen Oasis this weekend from March 3-March 5!
THE ESSENTIALS: 52 Must-See Movies and Why They Matter


From the TCM website:
"Since its inception on Turner Classic Movies in 2001,
The Essentials
has become the ultimate for movie lovers to expand their knowledge of must-see cinema and discover or revisit landmark films that have had a lasting impact on audiences everywhere. With a foreward by TCM Host Robert Osborne, Arnold's compilation of films has been deemed a classic by Amazon reviewers.
Based on the hit series,
THE ESSENTIALS
by Jeremy Arnold showcases 52 must-see movies from the silent era to modern times. Readers can enjoy one film per week, like on the show, for a year of great viewing, or indulge in a movie-watching binge-fest. Each film is profiled with entertaining discourse on why it's an Essential, and running commentary is provided by TCM's Robert Osborne and Essentials guest hosts past and present: Sally Field, Drew Barrymore, Alec Baldwin, Rose McGowan, Carrie Fisher, Molly Haskell, Peter Bogdanovich, Sydney Pollack, and Rob Reiner.
Featuring full-color and black-and-white photography of the greatest stars in movie history throughout, THE ESSENTIALS is the ultimate curated guide to 52 films that define the meaning of the word "classic."
Kelly Pantaleoni has her copy of
The Essentials: 52 Must-See Movies and Why They Matter
signed by author Jeremy Arnold in the lobby of the Hollywood Roosevelt Hotel....
Jeremy Arnold is an author, film historian, and classic-movie commentator. His book,
The Essentials: 52 Must-See Movies and Why They Matter
(Running Press, 2016), is the companion to TCM's Essentials series. With a foreword by Robert Osborne and running commentary from all past and present Essentials hosts, it explores the background and significance of 52 of the films that have been shown to date on TCM as "essential" movie watching.
Since 2003, Jeremy has written over 500 programming articles and classic film reviews for the TCM website. His 2012 coffee-table book, Lawrence of Arabia: The 50th Anniversary, was published by Sony Pictures Entertainment as the official companion to the Blu-ray release of David Lean's epic. His essays on the making of Mr. Smith Goes to Washington, You Can't Take It With You and Mr. Deeds Goes to Town were published by Sony in recent Blu-ray digibooks; a new piece on Lost Horizon is upcoming.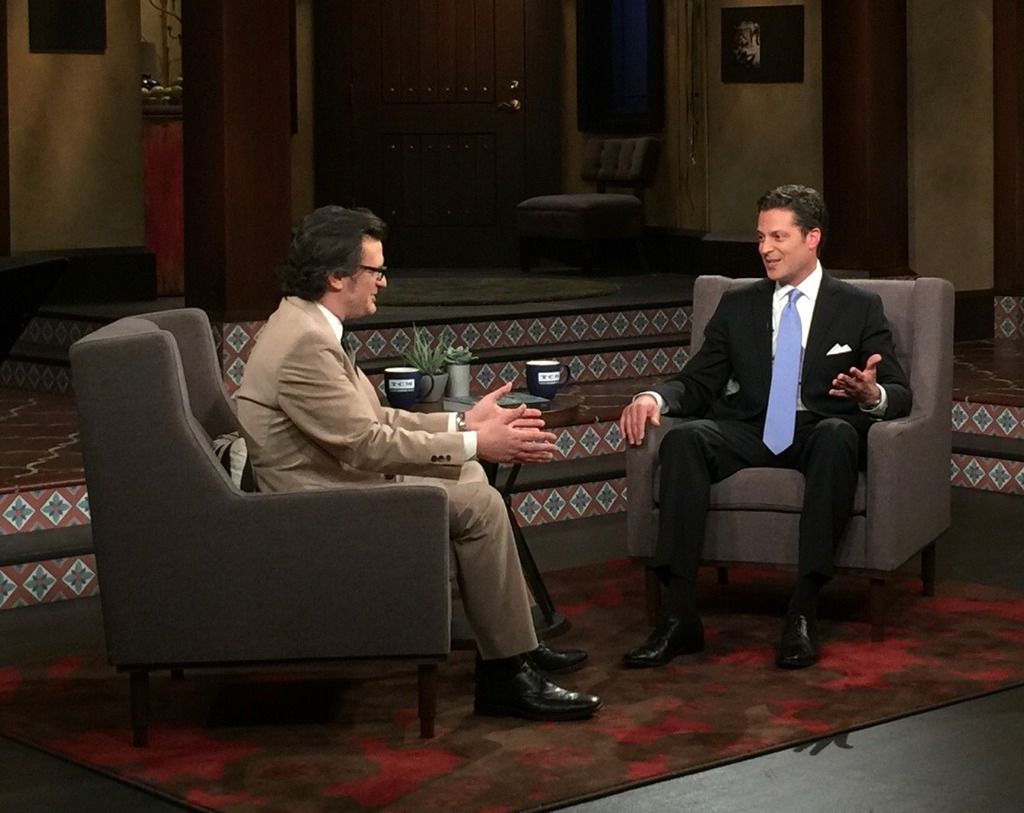 Ben Mankiewicz discusses aspects of
The Essentials
during Jeremy Arnold's Guest Programming appearance on TCM.....
Jeremy also contributed to the 2003 edition of Jeanine Basinger's book The World War II Combat Film: Anatomy of a Genre. Further essays and interviews with filmmakers and industry professionals have appeared over the years in Variety, Moviemaker, Premiere, and the Directors Guild of America magazine.
To date, Jeremy has recorded six audio commentaries for DVD or Blu-ray releases: Ride Lonesome (1959), Ladies of Leisure (1930), Jamaica Inn (1939), Lured (1947), Sudden Fear (1952), and No Highway in the Sky (1951). Twice he has been engaged as a guest programmer, host, and lecturer aboard Crystal Cruises with classic film themes—including a complete career tribute to Marilyn Monroe.
A native of Washington, D.C., Jeremy resides in Los Angeles but is a lifelong fan of the New York Mets.
Welcome, Jeremy Arnold! We are delighted to have you visit us this weekend.