The very first person I met at the Vanity Fair party was sweet Margaret O'Brien, pictured here with Jane Powell and Dickie Moore. She looks lovely, and her little black dress with the puffy sleeves and emerald-cut neckline was the perfect showcase for her jewelry suite, the big spangly earrings and pendant were divine. Powell and Moore were also very gracious to all fan passholders, and posed for several more private photos, as did O'Brien. Mark Hill, the party photographer, was everywhere snapping away, and he is a nice young man with a great eye for composition and lighting. I was about 20 feet from the camera when he snapped the photo inserted at the beginning of this report. These two lovely ladies are so petite, and definitely some of the favorites at the VFP. (Moira, I hope you are loving this photo as much as I am! Don't they all look adorable?)
As I walked through the entrance to the party, it was obvious that the one-level venue for the Vanity Fair fete was much more spacious and inviting than it seemed to be in 2010, and that was a wonderful party, too, but the air didn't circulate as well as it did in the Kodak building, and perusal was much more difficult last year due to the crush of suits and velvet inching towards a favorite celeb sighting. VIP areas in 2011 were centered in large sectional sofa areas with plenty of room to circulate and spot favorite film personalities who had obviously been persuaded to exit their "swankiendas" for a night of fun, film, and foie gras....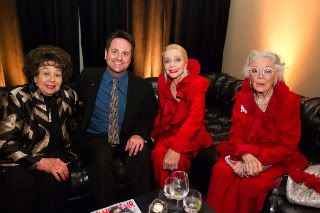 Jane Withers, Anne Jeffries, and Ann Rutherford are seen in one of those VIP areas with a young man who was keeping them company. It seems Ann Rutherford and Anne Jeffries are
great friends who often travel to parties togethers, and enjoy dressing in the same sartorial shades...
Here the girls are in one of my favorite shades of peach...
(From the TCM Festival 2010)
I was able to sit and chat with Jane Withers, who really is a ball of fire. She and I compared cocktail rings and she enjoyed my large-carat aquamarine dinner ring encircled with small brilliant cut stones. I asked her if she wanted to try it on, and then she started telling me about her cocktail ring that had graduated tiers of gold topped with a huge bevy of individually mounted diamonds. Each golden tier of the mounting, she related, represented an important event in her life, and she went on to discuss how proud she was of all of her grandchildren.
A fun gal, and a ten on the SCHMOOZE list...
Just as I finished chatting up Ms. Withers, Anne Jeffries and Ann Rutherford were getting ready to leave, but I heard Ann Rutherford finish her conversation about Gone With The Wind and say "Thank God we had a good print of that film." So I would surmise Ms. Rutherford is indeed interested in the important work of all film preservationists.
More later...