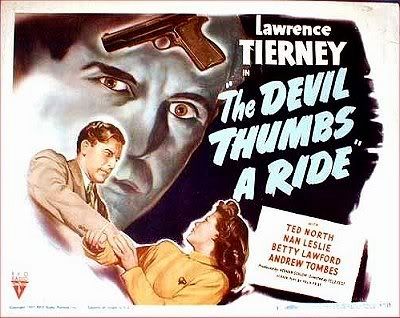 Just saw
The Devil Thumbs a Ride
(1947-Felix E. Feist) for the first time recently, and a good print can be seen in its entirety
here
online. I loved the film, though
Lawrence Tierney
's cold allure has never appealed to me in any of his movies. I do wonder if being successful in roles that played upon his eerily symmetrical, mask-like face and New York tendency to talk out of the side of his mouth at the start of his career may have depressed the actor, encouraging his descent into an off-screen behavior characterized by chronic belligerence and his alcoholism. Reading a memoir by (of all people!) heiress
Gloria Vanderbilt
, I discovered that in her acting school period (the rich lady tried on many artistic masks in her quest for individuality), she found him to be rather sweet and appealing, until she encountered his reluctance to listen to directors and others, especially after drinking. I have also read that others found that he had a poetic streak, reciting poems and passages from Yeats and O'Neill at a certain point in his average evening ritualistic drinking. At least his brother Scott Brady seems to have escaped some of the pitfalls of his brother's life and career.
The ultimate road trip movie features
Lawrence Tierney
as a thief and murderer who casually commandeers an inebriated salesman (Ted North) and his slick coupe, horning his way into the car when it is merely stopped at red light. Eventually, Tierney manages to add two stranded women to the "party" and causes more mayhem along the sojourn, challenging the fragile hold of each member of the group and those they meet along the way to reassess their role in life--until a shocking development and a tidy (if rushed) denouement seems to put things on an upward path again (yeah,
right!
).
Regarding
The Devil Thumbs a Ride
, I would have been jumping out of the car the minute that jerk Steve Morgan (
Tierney
) started in on me with the soft soap and the once-over, but I must admit that the susceptible
Nan Leslie
's general guilelessness seems slightly (and chillingly) reminiscent of a girl who used to look back at me from the mirror. ( I like to think that I was never this dim or deluded about flattery or life's possibilities, but that may be one more reminder of the youthful sap I once was).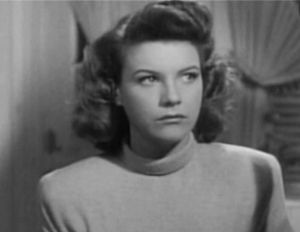 Above: Nan Leslie, playing a sap with my sympathy.
I can't quite believe it, but in college I used to hitch hike all the time! In retrospect I now realize that I had some narrow misses (my guardian angel must have been sprouting some gray feathers in those years), I did survive--though I would never, ever recommend that anyone do this today. In the late '70s and early '80s in college communities this mode of transportation was then fairly common, and one of my more hare-brained, pathetically feeble attempts at being "cool," something I gave up on a long time ago.
In this movie, I particularly liked the floozie that Nan was traveling with played by the "chews nails, spits rust" tough gal
Betty Lawford
, seen below.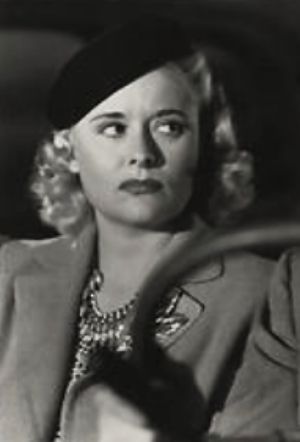 That cheerful bimbo had no qualms about
anything
, including riding shotgun with a murderer, sleeping in a stranger's sheets, and lapping up any alcohol she could find. As I watched the movie I kept picturing her as a refugee from the thirties--I kept thinking of her as one of the more out-of-step girls in the chorus line in
42nd Street
(1933), who had been on the road too long, staying until the last candle burned low at both ends. How surprised was I to learn that the English-born Lawford (who was a cousin of Peter and the daughter of an internationally known character actor E.E. Lawford) had played a chaste rose opposite Leslie Howard in the romantic
Berkeley Square
(1933), had originated the role of "Crystal Allen" in
The Women
on Broadway (I bet Crystal had a lot of brass in that production), and, well, lived quite a bit off-stage and screen. A quick search through newspaper archives reveals that Betty cut quite a striking figure on screen (she was once described as "dainty" in an early movie review), stage, as well as the night club and race track scene in her day--witnessing fights, whispering sweet nothings to everyone from FDR adviser Harry Hopkins to noted silent and pre-code director Monta Bell--to whom she was married for much of the '30s. How sad that
The Devil Thumbs a Ride
was her last film and she was only 48 when she died in 1960.
Betty Lawford, Ted North, Lawrence Tierney and Nan Leslie on a road trip to the dark side in
The Devil Thumbs a Ride
(1947).
The seemingly relentless way that the shark-like
Tierney
character exploited and manipulated every person's weakness was pretty impressive, though it hardly seemed demonic to me. The unfeeling manner in which he took over the group seemed to happen while the other individuals were blithely unaware of his maneuvering. No one really seemed shocked by his casually brutal remarks about the big ears of the toddler daughter of the gas station attendant as well as his insulting remarks to Agnes Smith (Lawford) didn't seem to evoke much response from anyone, though the gas jockey seemed to be the most competent individual of all (even besting the cops). I felt that the inebriated "family man"
Ted North
could have found a way to shake off his trio of companions earlier, but his sudden realization of his vulnerability and the changeable nature of his true identity might have made him question his entire life. BTW, I realize that
Ted North
appeared in several movies during the '40s and was married to "B" actress
Mary Beth Hughes
--even though he was "introduced" as
Michael
North in Michael Curtiz's
The Unsuspected
(1947)--but does anyone know what happened to him after that time?
I'm guessing that this movie probably stuck to the grind house circuit when it was first shown, since it clearly violated Production Code tenets, though the way that the story played out, it was actually deeply pessimistic about human nature and as stark as as a Medieval Morality play about possible redemption. It was particularly interesting how little help came from institutions or deities helping us when the chips are down, a theme that Feist explored further in
The Threat,
Tomorrow Is Another Day
and
This Woman Is Dangerous.